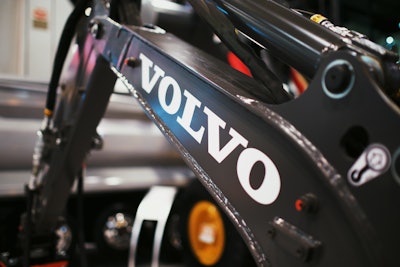 Calling 2018 its "strongest year ever," Volvo Construction Equipment saw an overall sales increase of 27 percent in the last year, compared to the previous year. Fourth quarter results were also strong, with sales up 21 percent compared to the same period in 2017.
The company cites growth in both machine and service businesses as the underlying reason for the increases, along with increased demand from construction, infrastructure and mining in all major markets. Volvo CE also says it helped parent company Volvo Group achieve record results in 2018.
During the fourth quarter, net sales increased to SEK 20,238 million ($2.2 billion) and operating income to SEK 2,157 million ($237 million), the company says.

In North America, Volvo CE saw sales increase 16 percent in the fourth quarter, compared to the same period in 2017. North American sales were boosted by a 23 percent increase in larger excavators and 10 percent increase in compact excavators. However, North American order intakes declined by 24 percent, which the company says is due both to lower orders on medium and large machines after a strong third-quarter 2018 demand, and the quarter's comparison with a particularly strong fourth quarter in 2017, when order intakes were up 86 percent.
Overall, Volvo CE says its net order intake increased by 9 percent, largely driven by strong demand for SDLG machines in China.
"We see further potential to increase volume flexibility in the supply chain, to improve quality and to grow our service business," says Melker Jernberg, president, Volvo CE. "An even stronger service business means we can provide better support for our customers and also better balance the cyclicality in construction equipment sales."