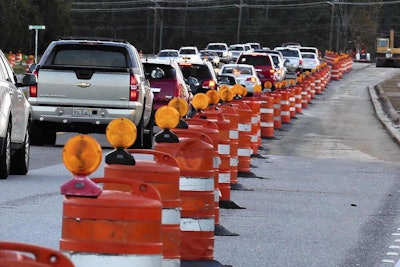 The Transportation Research Board (TRB) published a series of videos approximately one hour long that highlight a transportation worker safety analysis done by the National Cooperative Highway Research Program, according to Safety & Health.
We've embedded each of the three videos below, but you can also check out the whole series at this link.
Faculty members from the Oregon State University College of Engineering, John Gambatese and David Hurwitz, examined safety measures and data sources used by state departments of transportations (DOTs) to answer research questions, such as how DOTs respond to worksite incidents; how data is currently used to develop, implement, and evaluate DOT worker safety programs; and how the size and scope of a DOT influences highway worker health and safety programs.
"Quite a bit of work going on," Gambatese says in a video, according to the news agency. "All different types, going on in the daytime, in the nighttime, in the summer, sometimes in the rainy weather…and we have some safety issues. So, state DOT employees are placed in high-risk environments. Unfortunately, when we don't control those risks to the best that we can, we do have injuries and fatalities, which we try to avoid."