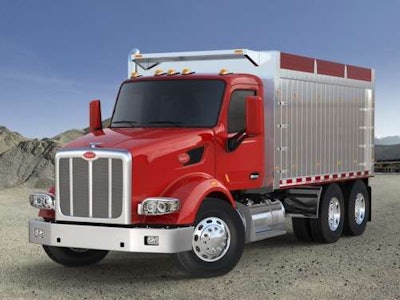 At the Mid-America Trucking Show in Louisville, Kentucky, Peterbilt took the wraps off of its new Model 567 vocational truck Tuesday, according to a report from our sister publication CCJ.
The 567 is available in 121-inch and 115-inch BBC configurations, in a day cab or with a selection of detachable sleeper configurations.
Three sleeper sizes are also available: 44 inches, 77 inches and 80 inches.
More features from the 567 include
Durable, newly designed aluminum cab.
Metton hood that absorbs many impacts that would crack other materials.
Improved lighting, including projector module low beams with 2,000-hour lifecycle.
Improved windshield visibility.
Chassis design that is lighter but stiffer, and that improves maneuverability for operating in congested worksites.