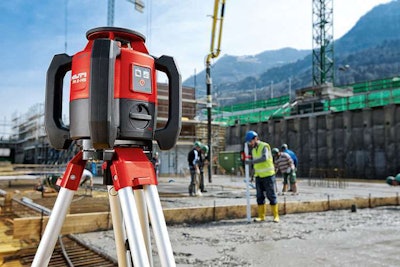 Easily transfer heights, set slopes or perform simple leveling with Hilti's PR 2-HS rotating laser, which the company says provides best-in-class leveling time.
With a 6- to 2,000-foot-diameter operating range (with the included laser receiver) the PR 2-HS delivers readings with an accuracy of +/- 0.02 inch at 32.8 feet even under bright light conditions, via Hilti's Pulse Power technology. Clearly defined function buttons offer ease-of-use.
The laser resists damage even when dropped from a tripod at standard working heights, and the unit's IP 66 rating ensures the PR 2-HS is both dust and water resistant. Hilti's Calibration Service will calibrate and adjust the unit as needed.