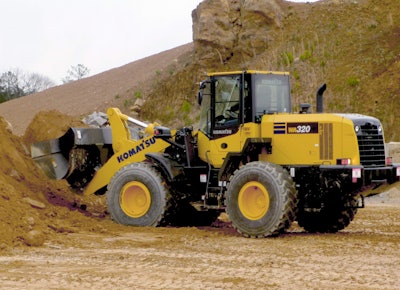 Improve efficiency and decrease fuel production with Komatsu America's WA270-7 wheel loader, which delivers 149 net horsepower via a Tier 4 Interim SAA6D107E-2 engine, and lowers fuel consumption by up to 10 percent compared to the WA250-6.
The 28,836-pound machine features Parallel Z-bar loader linkage, which offers both a parallel lift linkage and high tilt forces. For quick and easy bucket loading, the PZ linkage delivers a 10-percent increase in lift force.
The Komatsu Variable Geometry Turbocharger and an Exhaust Gas Recirculation valve delivers better precision, better air management and longer component life. Komatsu's diesel particulate filter has an integrated design and a smart system that enables a high percentage of passive regeneration.
SmartLoader Logic delivers the preferred engine torque for the job at hand, while simultaneously saving fuel by decreasing engine torque when not needed. The hydrostatic drive train boasts an increased pump capacity, improving efficiency and boosting responsiveness while eliminating brake wear through the dynamic braking effect. The system also includes a traction control system that helps performance on soft or slippery terrain. A variable speed control system enables the operator to set speeds based on the application.
The WA270-7 also features a new cab. The front glass is lower than previous models for improved visibility, and a redesigned seat-mounted right hand console has a multi-function mono-lever with proportional control for the integrated third spool. Connecting devices such as mp3 players is made easy via an auxiliary input with two 12-volt ports. The cab also includes a 7-inch high res LCD monitor that allows the operator to modify settings and check operational records.
Maintenance is simplified through convenient service access and increased cooling capacity, wider cooler fin spacing and an auto-reversing fan. Komatsu's Equipment Management Monitoring System provides enhanced diagnostic and troubleshooting features.