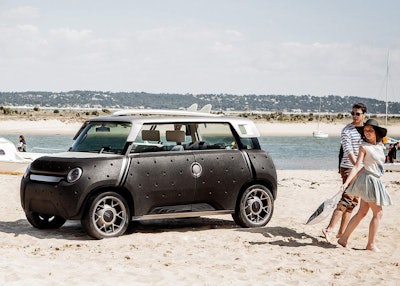 It likely won't win any beauty contests (or name contests) but what Toyota's Me.We concept lacks in looks, it makes up for in utility.
If there were ever a vehicle that embodied the term "crossover" this is it. The Me.We (named for its mission to make life better for both the individual and global community) is a design that seeks to solve several problems facing both consumers and the environment.
Just about anyone will tell you they'd be interested in a vehicle that not only has a lot of room for their stuff but also gets good gas mileage. For starters, the Me.We is an electric car, powered by four electric motors—one in each wheel—with batteries stored in the floor. Thanks to those independent motors, the Me.We's can operate in two-wheel or four-wheel-drive modes.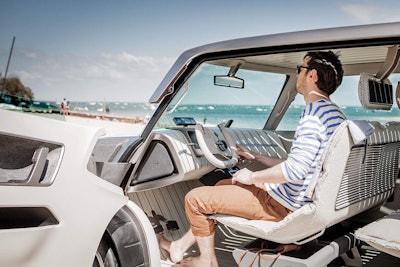 Adding to the environmental benefit of an electric car, the Me.We is just about completely made from recyclable materials. The interior—floor and horizontal surfaces–is mostly made of bamboo. Toyota said it chose the material for its renewability and also its look. Plus, because the cabin made of the stuff, the Me.We can be cleaned with a hose if you like.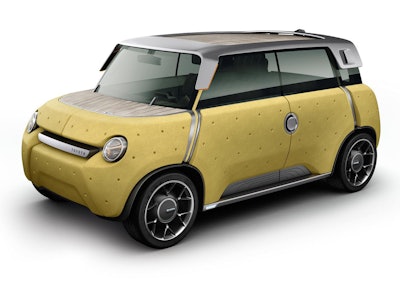 Those plastic panels on the outside of the Me.We, are customizable polypropylene body panels. They're extremely light, completely recyclable can actually pull them off the car and switch out for different colored or textured ones. The frame of the Me.We is made of tubular aluminum, making the vehicle really light—1,700 pounds in fact.
In terms of instrumentation, Toyota kept it very basic, but in a very clever way. A single display sits above the steering wheel indicating speed, journey information and battery charge. As for navigation and controlling the climate and music in the car, that's handled via the driver's smartphone which can be docked in the steering wheel.
But this is where the concept really shines. More than ever, versatile vehicle designs are in high demand. The Me.We combines design elements and functionality of not only an electric car but also a pickup truck and a convertible.
The car features minimal and very thin bench-style seats. The back bench can actually be folded and then slid beneath the front one. You can even remove the back seat completely. That leaves the same amount of room as the bed of a small pickup for hauling.
And if the cabin is full of people, you can always stow luggage and other things on the roof beneath the Me.We's built-in weatherproof neoprene cover that folds out.