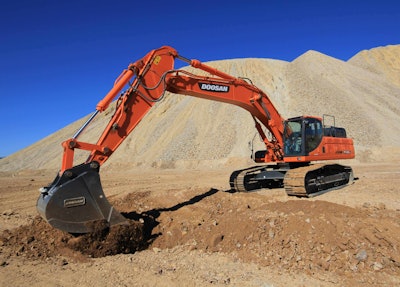 Perform a range of construction applications including road building and site development with Doosan's DX420LC-3 excavator. The new machine has a 92,374-pound operating weight, 25-foot, 5-inch max dig depth, 25-foot, 4-inch dump height and 37-foot digging reach.
The excavator has a six-cylinder, 362-horsepower water-cooled diesel engine with a high-pressure common-rail design with direct fuel injection, electronic control and four valves per cylinder. The engine uses a cooled exhaust gas recirculation system, diesel oxidation catalyst and diesel particulate filter to reduce nitrogen oxides.
A variable geometry turbocharger increases boost pressure at lower engine rpm, and enables the engine to create greater torque for improved machine performance while saving fuel.
Improvements include a 14-percent boost in swing torque for easier trench backfilling, and a 4 percent increase in lifting capacity to allow the excavator to lift and place more material per cycle.
Bucket digging force has been increased by 3 percent, improving cycle times. The cooling system has been upgraded with two variable-speed fans that enable the operator to control the engine coolant and hydraulic oil cooling systems independently, boosting cooling capacity by 10 to 15 percent.
The DX420LC-3 has an Electronic Power Optimizing System that has multiple work modes, including a new Power+ mode that provides faster speed during heavy-duty work. Operators can also choose from Digging, Breaker, Shear and Lifting modes. The EPOS system also features an auto-idle and machine diagnostics.
Available options for the DX420LC-3 include an Intelligent Floating Boom that permits the boom to move freely up and down without hydraulic flow, decreasing the machine's workload and increasing efficiency. An air compressor that cleans the cab when working on dusty jobsites is also available.