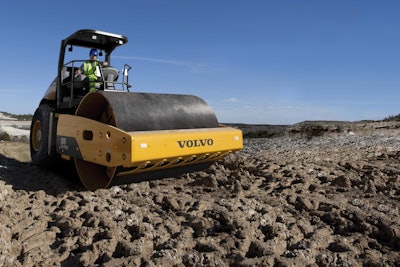 Volvo Construction Equipment has updated their SD115 soil compactor, and the machine now includes a Tier 4 interim engine. The SD115 is available with either a four-cylinder 147.5-horsepower or six-cylinder 173-horsepower Volvo engine.
The compactor's hydraulically-operated engine cooling fan runs only when needed, reducing both fuel consumption and noise levels.
Weighing 25,690 pounds, the compactors handle a variety of medium- to heavy-duty compaction jobs via a combination of high centrifugal force, amplitude and drum weight. Increasing drum force based on changing terrain and material depth is made simple; high or low amplitude can be selected from a switch on the operator's control panel. A choice of two drum frequencies to compensate for changing soil conditions is also available, and a 5-frequency feature is available as an option.
The SD115's center joint provides +/-38 degrees of articulation and +/-17 degrees of drum oscillation to deliver both stability and operator comfort. The 84-inch drum provides smooth, uniform compaction, and the redesigned drum frame ensures more effective compaction on steep slopes.
The frame of the machine is angled to allow high clearance to negotiate not only steep slopes, but to also simplify loading. The compactor features an efficient rear-wheel-drive system with a durable axle integrated in the drive train, and Volvo's No-Spin differential increases traction while eliminating tire slippage. The optional Ultra-Grade traction system boosts stability on slippery terrain and steep slopes.
Maintenance has been streamlined, with long-life coolant that protects the machine for up to 6,000 hours, and a new hydraulic oil fill and standard sight glass reduces spills and overfills.
The compactor also comes equipped with an emergency stop system that can be activated by the operator, as well as a switch in the seat that shuts the machine down if the operator rises from the seat for more than five seconds during operation.