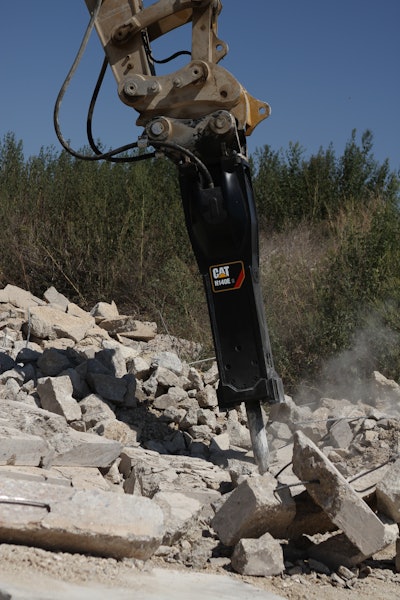 Caterpillar E Series hammers for excavators now include the H140Es, H160Es and H180Es, which are suitable for Cat medium and large excavators ranging from the 324E to the 374D L. Energy classes are 6,000, 8,500 and 12,000 foot-pounds, respectively.
The E Series features automatic shutoff, which stops the hammer when the tool breaks through the material and reduces the stress caused from blank firing. Field serviceable with hand tools, the hammers are easy to maintain.
An external pressure control valve also reduces service time. A symmetrical housing design enables 180-degree rotation to compensate for wear and extend the housing life, and an optional wear package is also available for severe applications. A curved profile eliminates stress points while the one-piece side plates resist cracking. Sound suppression and vibration buffering improve operator comfort.
The hammer settings are preprogrammed in Cat excavator tool control systems to enable easy set up, while allowing oil flow and pressure to be adjusted. Hammer working hours can be recorded for maintenance.