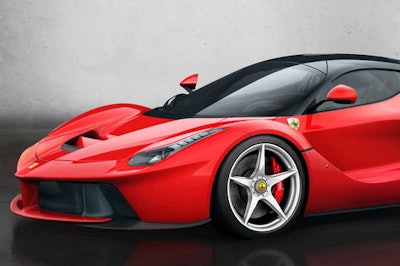 Love the idea of a hybrid, but hate the performance and, let's be honest, look, of the current field of available options? Ferrari has a car for you. Well, at least 499 of you.
The recently unveiled Ferrari LaFerrari (a bit redundant but we won't fault them too much) combines an 800-hp 6.3-liter V12 with a 163-hp electric motor for a whopping 963 hp of total power. The new HY-KERS drivetrain combines that power with a 7-speed transmission which results in a 0-60 time under three seconds and a top speed of 205 mph.
And as lovely as this car is on the inside, let's not forget about outward appearances. The LaFerrari's stunning design is composed of four different types of carbon-fiber for a light-weight body. And the lines on this car aren't just for show. Ferrari says the LaFerrari's F1-inspired design delivers "the highest degree of aerodynamic efficiency ever achieved with any road car."
Ferrari has a ton of interesting and interactive info on the car over on its website. Only 499 are being made and the price hasn't been announced just yet.