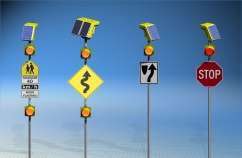 North America Traffic (NAT) introduced a new series of solar-powered flashing beacons at the 2013 ATSSA Show.
The beacons feature a range of features developed to improve visibility and versatility for marking safety zones on roadways.
NAT says the field trials are underway to verify its new line of flashing beacons planned to begin production in the third quarter of 2013. The new beacons are designed for year-round, 24/7 operation in all climates.
Current testing in varied climate zones will ensure that the beacons achieve targets for durability and reliability in unattended operation, powered only by their integrated battery packs and solar array, according to NAT.
Assisting school zone compliance and enforcement
Peter Vieveen, president of North America Traffic, sees a great deal of potential for the beacons in school safety zones. The beacons can be set to flash during specific periods on a day-by-day basis through a simple interface, similar to common desktop computer calendars. While the beacons can be pre‑programmed to match normal school schedules, local users can also update the timing to reflect changes in the schedule or for special events.
Vieveen also notes that enforcement is an important part of safety that NAT addresses in the beacons' design. A status indicator in the rear of the beacon displays when the LED signals are actually flashing. This feature will allow traffic enforcement officers to verify that the beacons were operating at the time of an infraction. In a school zone, for example, the enforcement officer could park between a pair of beacons and monitor their operation while observing traffic.
Design for custom applications
The development team at NAT has been working closely with a variety of customers to add more functions to the basic beacon. In one case, NAT is developing a beacon that is also able to power a built-in light that will illuminate the sign to which the beacon is attached. This configuration can be used to improve safety and visibility around transit stops.
In another version of the beacon, a motion detector detects the approach of trucks exiting a construction site, and triggers the flashing beacon to alert oncoming traffic. A remote control model will allow staff at a loading dock or scale to manually operate the beacons to control traffic control from distances as far as 500 feet.
To facilitate these novel features, NAT is incorporating multi-purpose accessory ports backed by a highly efficient power system. With these, Vieveen says, North America Traffic can accommodate a wide range of unique customer requests economically.
Production models of the new flashing beacons will be available through authorized North America Traffic dealers following the summer test season.