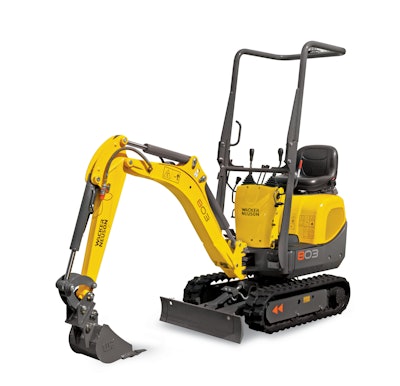 Concrete contractors got a look at a number of new machines and refinements to old equipment at the Wacker Neuson booth at the World of Concrete this week.
For tight space applications, the company unveiled the smallest of its mini-excavators, the 803, which measures just 27.5 inches wide and weighs 0.8 tons. A fold-down ROPS enables the machine to get under doorways and low obstacles and the rubber track undercarriage retracts and extends (to 34 inches) for further accessibility.
The mini-excavator runs on a 3-cylinder, 13- horsepower diesel engine, and it's large hydraulic reservoir is designed to run a hammer for extended periods of time. It digs to 5 feet, 9 inches and offers a dump height of 6 foot 7 inches. When armed with a bucket, it has 2,021 foot pounds of digging force.
The company's newest wheel loader, the 550, features all-wheel steer and a long wheel base for stability and maneuverability. It comes with a 47 horsepower engine and high-flow auxiliary circuits to power larger attachments such as blowers, brooms and trenchers. The 550 comes with canopy or cab and a faster travel speed option is available to take it up to 19.5 mph.
Contractors looking to lower their carbon footprint or bolster their green credentials might want to look at Wacker Neuson's new 48-inch dual fuel trowel. The CRT 48-33K DF is configured to run on gasoline or propane (LPG).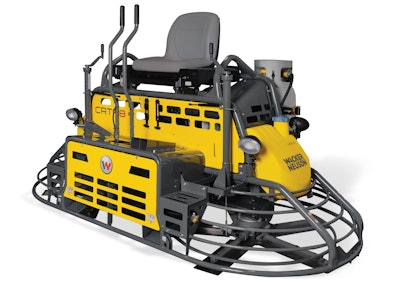 Kubota provides the engine for this trowel and the operator can switch between the two types of fuel by simply flipping a switch in the cab. The gasoline tank and the LPG tank each have two hours of run time giving you four hours of total run time with both.
A pair of "value models" as the company calls them were introduced in the ride on trowel segment. The CRT v36-26A is offered with the integrated wheel kit as an option to reduce cost, a 22 horsepower Honda engine and a high capacity centrifugal clutch drive.
Other new products include:
The IRFU 60HR high frequency internal vibrator with a rubber-coated head to protect epoxy coated rebar.
The RTx-SC2 extendable-drum trench roller that can compact from 22 to 32 inches wide to match the width of a standard 2 foot or 3 foot bucket.
A 3.5 ton compact excavator, the 3503 with an angled blade for more efficient backfilling.
The E1100 hydronic surface heater with a custom designed generator that offers 3 kW net output for cold climate work off the grid.