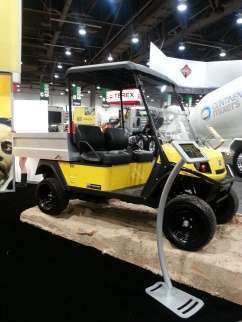 Cushman launched a new utility vehicle this week at World of Concrete: the 16-horsepower Hauler 1500X.
Not designed for recreational use, the Hauler 1500X is meant for transporting tools and personnel quickly around large jobsites. The vehicle has a top speed of 16 mph and numerous safety features available as options.
The Hauler is a 4 X 2 with standard manual diff and a 1,000-pound payload capacity. ROPS and FOPS options are available. The Hauler 1500X is powered by gas; Cushman also has diesel models available as well as optional electric. The company also recently launched a 4×4 model with a 13,000-pound total payload capacity.