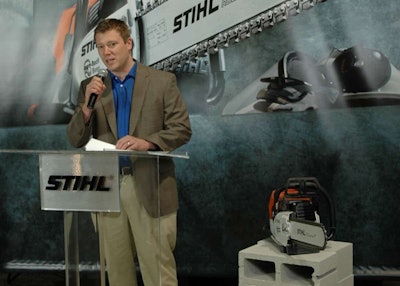 Stihl introduced a new chainsaw type concrete saw, the Rock Boss 461 today here in Las Vegas at the World of Concrete.
The Rock Boss can cut 15.7 inches deep and uses 20 percent less fuel than comparable two stroke engines, says Dan Pherson, product manager (pictured above with the Rock Boss), industrial & blowers.
Several design tweaks make the Rock Boss stand out from the crowd:
The fuel cap is positioned on the top of the unit, rather than the side, so you don't have to lay the saw on its side to refuel. That means less mud, water or debris on the unit.
The chain tensioning screw can be accessed through a hole on the side of the Rock Boss without having to take the chain cover off.
In use, adjustable water flow gives you adequate flushing and cleaning when needed, but dial it down and you won't get soaking wet from too much water streaming over the blade.
The Stihl blade has diamond bits on every tooth (rather than ever other tooth as in some designs) for faster cutting.
The chainsaw style concrete cutters enable you to do plunge cuts and create neat corners without the overcuts that occur when cutting with a circular saw design.
[youtube SFjeLr9gsxk nolink]