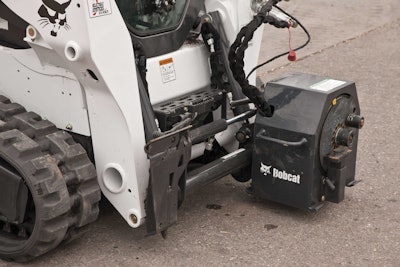 Bend rebar into a variety of angles and repeat bends with Bobcat's rebar bender, which comes with five mandrels.
Suitable for bending up to #6 grade rebar up to 200 degrees, the rebar bender mounts on the left Bob-Tach mount and features a remote attachment control for easy, safe operation from the cab.
The operator can stop and start the rotation of the bend pin via the wired remote control. An optional bar stop can be set at any angle for automatic stop and repeatable angle settings.
The rebar bender is designed to fit all Bobcat skid-steer loaders, compact track loaders, all-wheel steer loaders and Toolcat utility work machines.