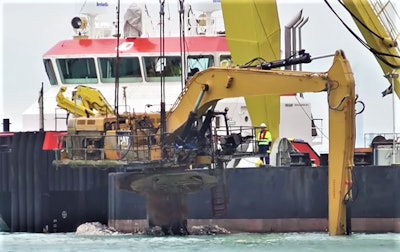 Construction can be an unforgiving business. Even when the proper planning and specialized equipment are involved, sometimes the job still throws up a big middle finger right in your face. Take for instance the tale of "Moby Dig".
In 2017, during construction of the Rampion Wind Farm off the coast of Sussex, England, a Cat 374DL elevated excavator was brought in to wade about 1/3 of a mile off-shore to backfill trenches dug for the installation of the wind farm's energy export cable, according to the Rampion Offshore Wind newsletter. Here's a video of the 374D L being offloaded at the jobsite and getting to work.
While working, however, the excavator became stuck, sinking into a soft patch of seabed. Then, the tide came in, submerging the cab and much of the machine's boom. According to the description in this YouTube video, the softness in the seabed was likely "caused by large concrete coastal defenses being removed from the beach after WW2."
The excavator's wayfaring troubles quickly earned it the name "Moby Dig" among the locals. "Planning the removal, engaging contractors, ensuring the right equipment and people were available, and assessing the seabed for the arrival of the barge, meant the digger was in place for around three months, long enough to become a part of the local community," Rampion's development stakeholder and manager, Chris Tomlinson, told the company's newsletter.
According to Rampion, the excavator was too far out to sea to be recovered from land. So, the company brought in the Cormorant, a Dutch crane ship.
After crews drained the machine's diesel tank, the crane ship salvaged the excavator from the muddy seabed with 106 tons of lift pressure. You can check out a video of the salvaging operation in the video below.