Lifting heavy loads with aerial work platforms that have all-terrain tires can cause damage to soft ground like sand and turf.
To address that problem, Genie has introduced two new high-float telescopic boom lifts, the S-80 HF and S-85 HF, that are deigned to "float" on soft, delicate surfaces, the company says.
Despite the added protection for soft ground, the new HF models boast an unrestricted lifting capacity of 600 pounds and restricted capacity of 1,000 pounds. Their platforms, with side swing gates, can hold up to three people, along with tools and materials. Platform options are 6 feet with dual-entry or an 8-foot tri-entry platform.
The S-80 HF has a working height of 86 feet and outreach of 68 feet, 6 inches. The S-85 HF has a 91-foot working height and outreach of 72 feet, 6 inches.
The models are equipped with air-filled 41/18LL x 22.5 20 ply tires and are available with a 74-horsepower Tier 4 Final diesel engine.
They are designed similarly to the company's Xtra Capacity (XC) booms, to meet proposed ANSI A92 guidelines expected to be published this year that call for mobile elevating work platforms to be equipped with overload-restriction and terrain-sensing technology, among other advancements.
Features on the new high-float models include automatic envelope control, which retracts the boom when it reaches its operating envelope, and a load-sense cell that automatically limits the operating envelope to match the load chart.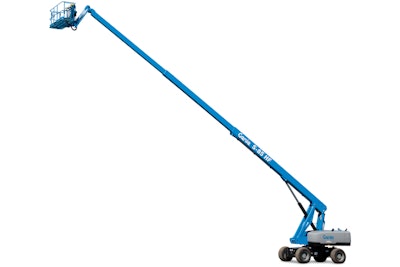 Chassis tilt-sensing technology also enhances the booms' safety and productivity. It expands their work zones and gives operators access to different ranges of motion based on the chassis angle, the company says. When the tilt activation setting is reached, the system automatically cuts out certain lift and drive functions. "This feature means that not only are the Genie HF machines able to carry more load than ever before, but they are also able to maximize operator's access hard-to-reach work areas on challenging jobsites," the company says.
Genie also added its Smart Link control system to the booms for easier operation. Its onboard diagnostics can be displayed on a new LCD screen at the ground controls, allowing machine setup, calibration and troubleshooting on the machine, with no need for a laptop or other accessories.
Other features include a virtual pivot primary boom that aligns the machine's center of gravity for lower machine weight; four-wheel-drive and positive traction drive that maintains equal power to all drive wheels; 45 percent gradeability (stowed) for driving on slopes; 160-degree platform rotation and a 360-degree continuous rotation turntable.
The Genie Lift Power generator is an available option for both models. The system includes a dedicated hydraulic circuit, a right-sized breaker and no pressure switch, allowing for the power to lift and drive. The Genie Lift Power system is available in 3-, 7- or 12-kilowatt options.
"This new generation of high-float booms delivers extra capacity capabilities with increased performance in sensitive ground conditions," says Corrado Gentile, Genie product manager, Terex AWP. "This translates to fewer lift cycles, less equipment needed to get tools and materials to work areas at height and the ability to work on jobsites where regular rough terrain machines do not perform."