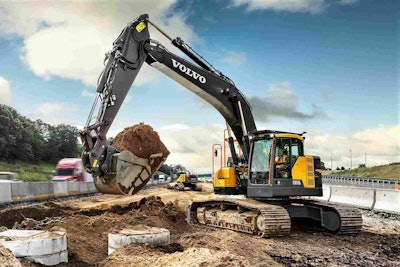 Volvo Construction Equipment is reporting a big second quarter, with sales up 32 percent over the same period in 2017.
Volvo says sales jumped to SEK 24.403 billion ($2.72 billion). The sales increase led to a huge increase in operating income, up 49 percent in the second quarter to SEK 3.675 billion ($410.7 million).
Each of the company's major markets saw sales increases following more demand for equipment, the company says. Europe rose 8 percent; South America is up 28 percent; Asia, excluding China, rose 19 percent; while the Chinese market rose 47 percent.
Volvo sales in North America rose 17 percent to SEK 4.463 billion ($498.8 million).
"Volvo CE is well invested in strong products and services and a strategy that is serving both our customers and ourselves well," says Melker Jernberg, president of Volvo CE. "We continue our efforts to improve efficiency across the supply chain, and are moving in the right direction. Finding the balance between investing in new technologies while at the same time maintaining cost consciousness and flexibility will continue to be in focus during the remainder of the year."