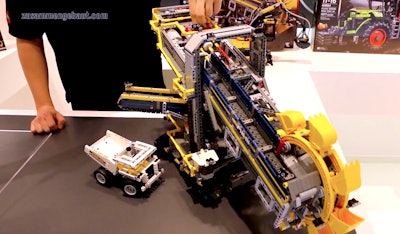 One of Lego's largest (and coolest) available Technic sets is the remote-control Volvo CE L350F wheel loader. The set includes 1,636 pieces and is capable of being rebuilt into an A25F articulated hauler. And somehow, the toy maker has come up with something even better.
Coming in the second half of this year, Lego has unveiled an incredible wheel excavator set that when released will easily dwarf the L350F and become the largest Technic set on the market.
Built to accurately mimic the functionality of the real massive machines it is based on, the Lego Technic Bucket Wheel Excavator is fully motorized and includes nearly 4,000 pieces. Four. Thousand.
That means it will likely be fairly expensive. The Volvo loader set was priced at around $250, so we wouldn't be surprised to see this retail between $399 and $499.
But it just might be worth it.
Not only does this thing have a working bucket wheel and conveyor belt system, it includes a dump truck for hauling. Plus, the superstructure rotates and its track system actually functions, allowing movement of the entire machine with the flip of a switch.
And we haven't even mentioned yet that the whole thing can be rebuilt into an aggregate processing plant. There isn't video yet of that configuration but we'll let you know when we see it.
In the meantime, check out this beast in action the video below. And start saving up.
Via: Gizmodo
Source: Zusammengebaut.com