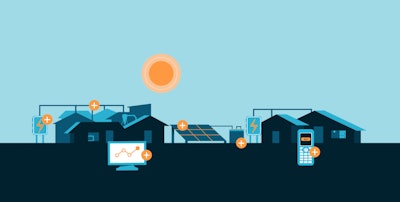 Since 2012, PowerHive has been delivering electricity to spread-out rural communities in developing nations. The company does this through a smart mix of software and hardware, a mix that recently attracted a $20 million Series A investment round.
Caterpillar Venture Capital, the investment subsidiary of the heavy equipment giant, has announced its participation in that round which was led by Prelude Ventures.
But on Caterpillar's part, the investment means more than just providing funding. Though the company's funding will support Powerhive's global expansion and continued growth in East Africa, Cat sees it as an opportunity to further position itself as the "go-to source for the complete microgrid solution," says Steve Niehaus, Cat's Vice President for its Electric Power Division.
"No matter where our customers are in the world, they can turn to Caterpillar and our unmatched dealer network to integrate alternative energy solutions like solar and energy storage with our generator sets so they have a sustainable, reliable power solution that is fully supported for years to come," he said in a statement.
The company says it will collaborate with Powerhive, combining "Caterpillar's depth of experience in emerging markets, technical expertise and scale with Powerhive's pioneering microgrid solutions to advance both companies' ability to serve energy demand growth in emerging markets during the 21st century."
How Powerhive works
The focus of Powerhive's business is bringing electricity to areas of the world where a traditional power grid is too costly: specifically those rural communities spread out over large geographical regions.
Powerhive's solution is a microgrid platform capable of providing enough capacity for homes, businesses, health clinics and schools for as long as they need, according to the company's website.
Electricity is typically generated using solar arrays, but is compatible with any energy source. Back-up generators are part of the system and surplus generated electricity is stored in high capacity batteries for times when no energy is being generated or when demand exceeds generation.
The service allows residents of these communities to purchase power affordably on a pay-as-you go basis. They pre-pay for electricity using existing mobile payment systems and can access account information via SMS text messages. When a transaction is completed power is immediately activated.
And thanks to Asali, the smart power meters that control all aspects of the Powerhive microgrid, consumption is monitored and customers receive alerts when their allotment is running low so they're not unexpectedly interrupted by a shut-off. These meters can be deployed in groups to manage different sizes of microgrid.
Another huge part of Powerhive's platform is the Honeycomb software. According to Powerhive, the software "receives a rich data stream from the Asali smart meters, enabling system monitoring and analysis of consumption patterns and financial performance." The software essentially automates all of the microgrid's operations.
"Caterpillar's global reach and vast network of local partners will unlock new opportunities for electrification in remote, underserved regions," said Powerhive CEO Chris Hornor.
This type of instant-on, pay-as-you go power platform makes perfect sense for those in developing nations. It results in finely-tuned power delivery and therefore more affordable energy. But it also makes sense as a way for delivering power to remote jobsites and other industrial settings.