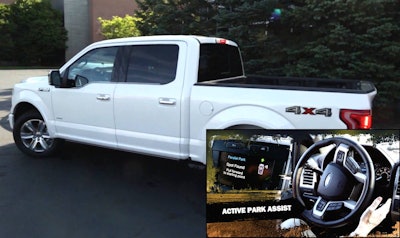 Once new owners of the 2015 Ford F-150 finally get their hands on the trucks in coming weeks, they might encounter a problem. They might not want to get out of the truck.
Ford has put together a list of all the nifty driver-assist and comfort features the new technology-packed pickups have to offer and it's pretty impressive.
The marquee feature is the F-150's new active park assist which uses two ultrasonic sensors and electric power-assisted steering to basically parallel park itself. While the driver is in control of the gas and brake pedals, the F-150 measures the gap between two vehicles to make sure the F-150 can fit in the space and once it has done so, the truck steers itself into position. Park-assist isn't a new technology but the 2015 F-150 is the first pickup to get it.
Here's a video of park-assist and a few of the other features discussed below in action.
The new F-150 also features multi-contour massaging seats. This doesn't really impact driving at all but it probably feels pretty good after a long day at work or during a long drive.
Another cool driving feature is the truck's blind spot information system which uses radar housed in the taillights to monitor your blind spots. When it sees a vehicle in a blind spot it triggers a warning light in the sideview mirrors. The sensors can even pick up a vehicle driving down an aisle in a parking lot as the truck is backing out of a space.
The 2015 F-150 also features adaptive cruise control and collision warning which uses radar to measure the distance and speed of vehicles in front of the truck and then slows the truck down to keep a minimum distance away which can be set by the driver. If the truck senses an imminent collision it will use audio and visual alerts to warn the driver.
Other driver-assist features include curve control which keeps the truck from entering a curve too quickly, a tow trailer module which monitors which lights on a trailer are working, a lane-keeping system, 360-degree camera with split-view, hill descent control and a tire pressure monitoring system.