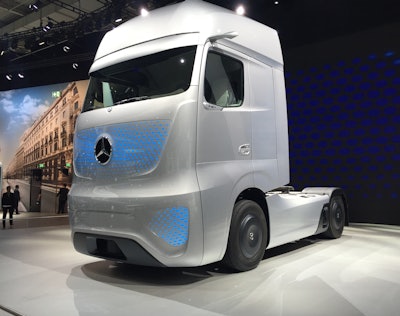 Today's truck designs are vastly different than those of 15 years ago. OEMs have introduced major advancements in aerodynamics, integrated safety systems and new engine and powertrain options that make the squared-off, long-nose offerings of years past look like dinosaurs. But those design changes largely have been incremental over the years.
Until now. Daimler introduced its autonomous driving concept to journalists at its Highway Pilot global press event in Germany in July, but it wasn't until the eve of the IAA 2014 trade show in Hanover last night that it peeled the wrapper off its Mercedes-Benz Future Truck 2025 concept truck to a contingent of 350 journalists from 30 countries to a wild round of applause.
Certainly, the Future Truck 2025 isn't your momma's cabover design. This revolutionary tractor blends years of advancements in technology, aesthetics and design in a way that we haven't seen in the past. At first glance, the first thing you might notice is the absence of headlights. Those are replaced with a panel of LED lights that shine through the grille's paint. The grille itself is simply a single molded panel that encompasses nearly the entire front of the truck. The only discernible line on the front of the truck is the bumper panel.
[youtube 0_sorOjMc2w nolink]
Also missing are side mirrors. Instead, Daimler opted for "mirror cameras" that display the tractor-trailer's surroundings on 12-inch screens inside the cab. Daimler says these cameras are less susceptible to road grime and provide better visibility in inclement weather. All of these improvements claim to improve aerodynamics and fuel economy based on in-house wind tunnel tests.
If all this seems like a pipe dream for applications in the near future, consider that a company like Daimler doesn't spend more than a billion dollars in research and development on a project like this just to prove it can do so; it's betting that this type of truck will meet the challenges fleets will face sooner rather than later.
"Our Future Truck 2025 provides compelling answers to the challenges that our customers will be facing in the future," said Dr. Wolfgang Bernhard, Daimler Board Member for Trucks and Buses. "Our aim is to press forward with readying this technology for the market and to bring it to series-production standard. I am convinced that this will open up a whole new business perspective for Daimler Trucks."
RELATED: Daimler unveils a fully-functional self-driving Mercedes Actros prototype
Production challenges aside, the Future Truck 2025 and the entire concept of autonomous trucks still face a number of hurdles. In North America, these include regulatory and legislative headwinds as well as gaining the public's acceptance of driving alongside trucks that literally drive themselves.
Autonomous trucks are built to react more quickly than human drivers to mitigate or even eliminate accidents altogether. But what about scenarios where two or more obstacles present themselves making a crash unavoidable? How does the onboard system decide which of the two options will cause the least amount of damage?
And then there's the matter of cost. If and when autonomous trucks are production-ready for the North American market in 10 years time, the price tag certainly will be well above that of a standard Class 8 truck. And with the idea of these trucks being able to take the place of seasoned drivers who already can get better fuel economy in conventional trucks, would you be willing to hand the keys to an autonomous truck over to a less-experienced driver? After all, it's likely these trucks would use human control for the final stages of the trip.
These are just a few of the questions and concerns that autonomous truck makers will have to answer in the coming years as the trucking industry worldwide will begin to look toward specific applications.
But as Dr. Bernhard said during his speech, "We actively shaped the future." That they did, and that future certainly will be exciting to watch, however long it takes to unfold.
Editor's Note: Jeff Crissey is the editor of sister site CCJ.