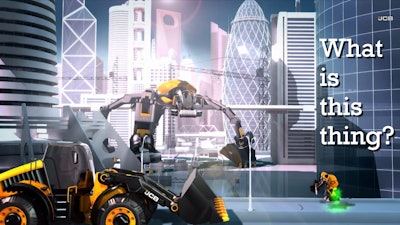 JCB has posted a video to YouTube that has me asking a lot of questions.
It's titled "Vision of the Future" which makes sense. Cars (are they cars?) are zooming by on floating highways by an also-floating city that looks like it's made up mostly of buildings heavily inspired by Seattle's Space Needle.
Then we start seeing JCB machines with futuristic designs. But they're still recognizable. There's an excavator and then a wheel loader. And then, we get our first glimpse of a machine that doesn't exist. It looks like a robot with buckets for arms walking on two legs.
Then we see a few more of those weird little guys on an overpass before the camera takes us sweeping down the center of the landscape, past a few excavators and wheel loaders and then…
Bam. Out of nowhere comes a lumbering spider-like creature with four buckets for legs. And not only that, one of the little guys from before has risen into the air thanks to a jetpack. The whole thing felt like seeing the alien for the first time at the end of Signs. And just as confusing.
So we reached out to JCB to see what was going on and if we should be worried about an impending invasion of quadruped excavators. "That video was produced in the UK and it potentially will be shown during our press conference for ConExpo," JCB spokeswoman Pam Veiock told me in an email.
So I guess we'll have to wait for the big ConExpo-Con/Agg show in March to see just what JCB is teasing here. Suffice it to say I'm a lot more excited (worried?) about the future after watching this video. Check it out below.
[youtube wIjO27yIqv8 nolink]