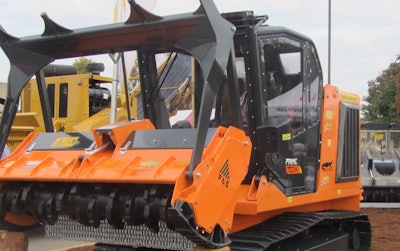 FAE introduced its smallest prime mover, the PT-175, to American users at ICUEE today. Featuring a 160-horsepower Cummins engine, the unit has a 61-gpm Sauer Danfloss hydrostatic mulcher transmission and standard Berco MF200 tracks.
"A computerized system prevents the operator from damaging the engine or hydraulics, gradually shutting the engine down," says Lee Smith with FAE. For added access to service areas, the front cab tilts forward and the rear housing tilts backward.
Smith says the prime mover, controlled by two joysticks, is a dedicated-use machine for maintaining right of ways and other utility work. Appplications include clearing stumps and roots, crushing rocks for road construction,vegetation management and soil stabilization.
FAE is also showcasing its UML/SSL/VT 150 mulching head for skid steers at ICUEE. Designed for land clearing, cutting brush and undergrowth and disposing of yard waste piles the head features a new sealed enclosed hydraulic compartment that keeps out debris, and there are two sets of Hardox Counter blades located in the mulching chamber. A thicker heavy duty mulching door adds safety and reduces the size of the product. A low-flow version, the DML/SSL, is also available, designed for more light duty applications.
[youtube j6EoMxqxJQI nolink]