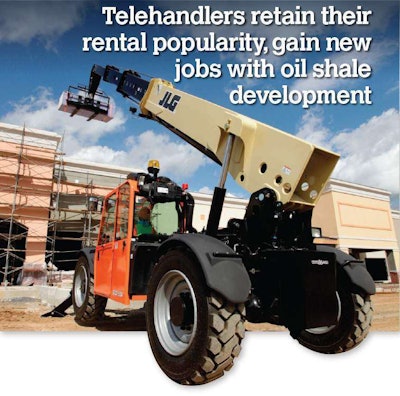 "Telehandlers offer great flexibility," says Heath Watton, branch manager for rental dealer Southeastern Equipment, Cambridge, Ohio. "They handle multiple attachments, including jib booms, auger heads and swing carriages." This versatility has made the 10,000-pound-plus units the darling of the oil shale business in Watton's territory of eastern Ohio, where he carries the JLG, Skytrak and Genie lines. "You see them doing everything, from unloading trucks, to lifting to craning. It's one of the rental industry's biggest draws."
Chad Hislop with Genie echoes Watton: "If you go into the oil and shale development areas of west Texas, Oklahoma and North Dakota, there's a telehandler on every drill site."
"We also see tremendous use of telehandlers in industrial settings and road and bridge construction," Watton says. Other strong markets for rented telehandlers include commercial and industrial construction, adds Steven Kiskunas with Gehl.
When you rent one of these machines, be prepared to answer the following questions.

What and how much do you need to lift? Telehandlers have gone far beyond their original masonry pallet roots, and can lift, move framing, be used as a work platform, and even do some light earthmoving/loose material handling. "Customers are trending toward bigger machines and lift capacity and height requirements are growing," says Wayne Goodall with Caterpillar. Rented telehandler lift capacities at maximum height range from around 3,000 pounds up to 29,000 pounds. Higher capacity machines typically have outriggers that can be used to increase capacity.

How high do you need to lift? Maximum lift heights typically range from 13 feet to 59 feet. Maximum lift heights don't always rise with higher lift capacities, since some machines are designed for heavier lifts at lower heights. "Your rental dealer should also ask you questions about machine height restrictions to assure the machine can negotiate the work site and move through doors and ramps as needed," says Kiskunas.

How far forward do you need to place the materials? Horizontal
reach is also a consideration.

Where will the machine be working? Muddy, rough terrain conditions will typically require machines with outriggers.

What type of telehandler will be best for your job? "One of the big design differences is the position of the boom pivot pin," says Brian Boeckman, JLG Industries. "The dominant preference in the United States is for high boom pivot designed units in which the operator looks under the boom when transporting materials." Low-pin (or low-profile) designs, Kiskunas adds, dominate compact units, with their best visibility over the top of the boom, and are best suited for pallet-size loads that can be carried lower.
"General purpose machines fit into tight spaces and have a ton of different attachments," Hislop says. As telehandlers move up in size, they generally take on more capacity and jobs, including moving scaffolding up fours stories high. They also, however, lack the nimbleness of the smaller machines. "There's a trade off of size for capability," he comments.

What attachments do you need? Beyond the standard forks, popular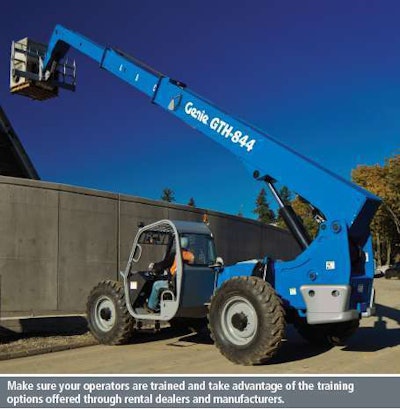 attachments include wider fork carriages, brooms, and jib – or truss – booms. Keep in mind, however, that a wider fork carriage may be too wide to enter restricted openings, Kiskunas says, "or may project beyond palleted loads."
"One of the neatest things I've seen lately is a concrete augering bucket." Watton says. "But really, 95 percent of the time they'll be equipped with forks. "
Buckets help users handle loose material or clean-up, but do not give the telehandlers earthmoving capabilities associated with other construction machines that use buckets. Telehandlers also can convert to an aerial work platform with a manufacturer-approved attachment. But keep in mind most attachments will affect the capacity, forward reach and stability of the stability of the machine, says one rental dealer.

What type of tires do you need? Pneumatic, foam filled or solid telehandler tires are available. While pneumatic tires provide the most traction, they are susceptible to flats. Foam-filled tires provide more stability and are puncture resistance, but their extra weight puts more wear and tear on the drivetrain. Solid tires, although lacking a cushioned ride, weigh more, perhaps giving you additional weight to reach higher heights in weights.

What options/features do you need? One example would be a light package for night work. Enclosed cabs will give your operators more comfort in high and low temperatures. Other options include pintle hitches for towing, brick guards to protect the cab glass and fenders, Boeckman says.

How will you transport the machine? Many telehandlers are sized to
conform to specific truck and trailer capacities, Kiskunas says. If you don't use the rental dealer's delivery and pickup service, make sure your truck/trailer combo has the capacity to safely transport the unit.

Keep in mind the training requirements. OSHA requires telehandler operators to be properly trained. Ask your rental dealer if they offer any training, and make sure your operators' training is current. Explore operator training options. For example, "Genie will offer a 24/7 online training program beginning next year similar to their Lift Pro aerial lift training," says Scott Owyen with the company. EW