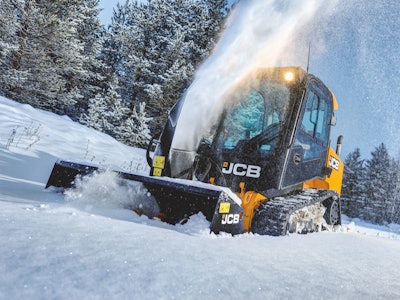 JCB
Editor's Note: This story was updated November 2, 2022, with new products.
Winter weather is close at hand, so it's time to start thinking about snow-clearing equipment.
Contractors have a variety of attachments to choose from to equip their construction equipment or pickup trucks to remove snow and ice from roads, parking lots and other surfaces.
Here are 14 attachments to consider: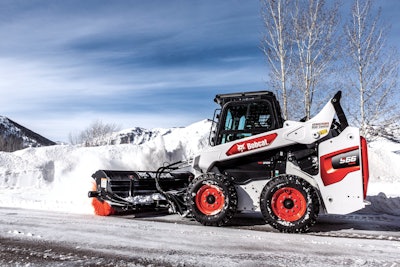 Bobcat's hydraulically driven angle broom attachment can handle quick cleanup jobs without damaging pavement surfaces. The bristles' waved design creates a cleaner path and can sweep more snow or debris in one pass. Reverse bristle rotation is available on the 68- and 84-inch angle brooms for sweeping leaves, snow and debris away from corners, curbs, buildings and obstacles. The standard orange heavy-duty bristles are designed for longer life and better visibility. The attachment is available for Bobcat's M and R series compact track loaders and skid steers and Bobcat Toolcats.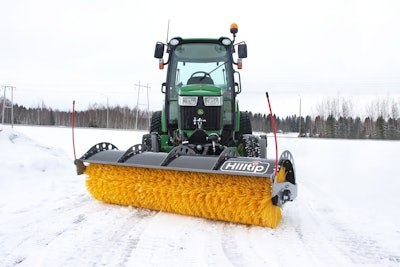 Hilltip's new SweepAway rotary brooms can be used on pickups, tractors and other equipment. They are available in widths of 59 and 86 inches. They feature a 20-inch-diameter brush for a variety of applications. Mounting frames are available for trucks, tractors, loaders or forklifts. The mounts allow the brooms to be angled up to 25 degrees. The brooms require hydraulic flow of at least 11 gallons per minute. A Hilltip Power Unit can be added for equipment below 11 gpm. The brooms' Kohler engine delivers 12 gallons per minute of hydraulic flow.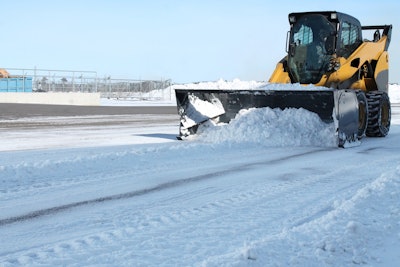 Virnig's V60 Steel Edge Snow Pusher offers a hybrid snow blade and pusher for scraping hard-packed snow. It is designed to maintain full down pressure on the cutting edge. The blade's edge adjusts automatically. The blade need only be reversed or replaced. It has 6 inches of total wear. A 9-inch-tall tapered shoe helps lift the pusher over obstacles, and AR400 steel pads increase durability. Side-to-side oscillation allows the pusher to maintain constant contact with uneven surfaces. It also features trip-edge protection, beveled inside gussets for increased side-plate strength, and improved frame bracing for greater rigidity.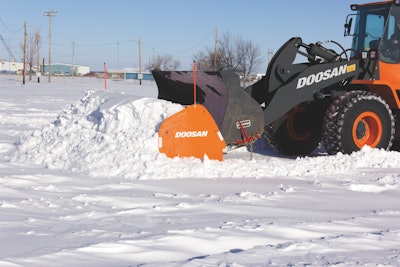 Doosan's bucket-mounted snow pusher attachment is designed for the company's 13- to 20-metric-ton wheel loaders and toolcarriers. The attachment comes in two versions: 12 feet wide at 2,200 pounds and 14 feet wide at 2,400 pounds. The pusher is designed to be an alternative to buckets and traditional plowing for clearing parking lots and roads. Features include a 47-inch moldboard for high-capacity snow removal, a 1.5-inch rubber cutting edge to protect surfaces, high-grade steel skid shoes, a 12-inch push beam and three bucket-mount support tubes to help keep the snow pusher rigid.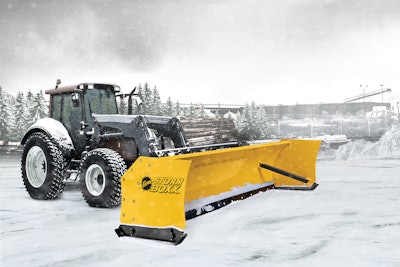 Fisher made its Storm Boxx pusher plows for large construction equipment, such as wheel loaders and backhoes. Models are available at 12, 14 or 16 feet wide. A two-piece steel trip edge is designed to deliver a cleaner scrape of hardpacked snow and ice. It also protects the operator and equipment when hitting hidden obstacles. Floating attachment plates allow side-to-side movement and smooth out bumps, keeping the pusher in continuous contact with the surface. It is also designed to be easily attached to various equipment.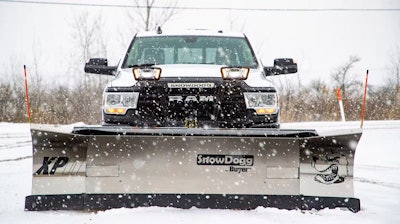 Buyers Products has released a 10.5-foot V-plow designed for clearing snow with Class 4-6 trucks. The SnowDogg VXXII plow mounts to trucks with wings that ascend from 35 inches in the middle to 45 inches on either end. With its wide wingspan and heavy-duty build, the VXXII specializes in clearing large amounts of heavy, wet snow. The company says the plow features a 304 stainless-steel blade with flared wings and a strong frame built to absorb heavy impacts. The VXXII also includes the RapidLink Attachment System and Floating A-frame.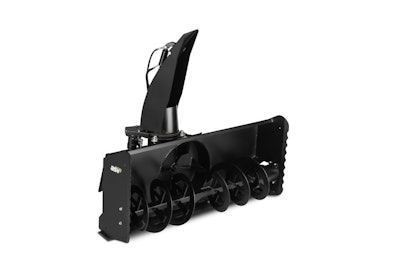 ASV's new snow blower for compact track loaders and skid steers features a four-blade fan, a heavy-duty gearbox and a high-carbon steel cutting edge to plow through snow and ice. In addition, ASV says, the attachment includes a "no freeze-up" chute design that seals out snow and ice to help minimize downtime. It is designed to clear snow down to the ground and can throw snow up to 4 feet on larger equipment. The attachment is compatible with other brands of compact equipment.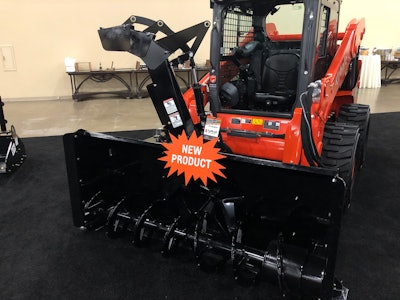 Kubota is launching new snow blowers for its equipment through its Land Pride subsidiary. The SBL30 models feature two motors to accommodate standard- and high-flow machines and come in widths of 74 or 84 inches. The SBL35 Series has the same features as the SBL30 but is geared to high-flow equipment of 34 to 41 gallons per minute like Kubota's SVL97-2 compact track loader. Features on both include a 16-inch serrated rotor and 26-inch five-blade impeller. The snow blowers are scheduled to arrive at dealerships in March 2023.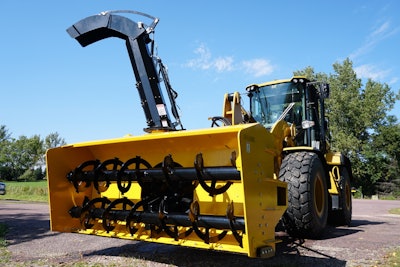 HitchDoc's all hydraulic snow blower is designed to reduce your carbon footprint. The company has eliminated the diesel engine, crankcase, shear pin and air filter, as well as the need for diesel exhaust fluid. The hydraulic blower is quieter and offers better visibility and balance. It is 9 feet wide and weighs 5,200 pounds. It is designed for wheel loaders of 2 to 4 cubic yards equipped with hydrostatic transmissions.
The JCB snow blower range features a two-stage design with the ability to throw snow 25 to 40 feet. A poly-lined chute and deflector can be adjusted to direct the snow discharge. The 25-inch standard flow shroud openings quickly dispense with high volumes of snow. The direct drive hydraulic motor design reduces the number of moving components for less wear and longer life. The blower includes adjustable skid shoes, a bolt-on replaceable wear-resistant tapered steel edge and quick release coupling. It is available in widths of 60, 72, 78 and 84 inches in either standard or high flow.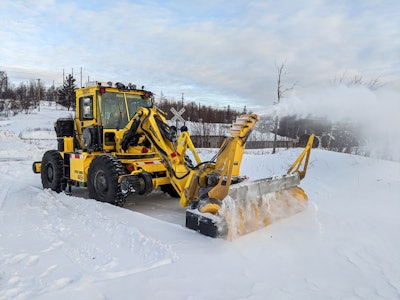 Pettibone's Speed Swing 445F rail crane is now available with a CreepDrive system from Poclain Hydraulics that allows it to run high-flow attachments like snow blowers and power brooms at slower travel speeds on or off the rails. The CreepDrive can deliver up to 33 gallons per minute of hydraulic flow. It comes with a display interface for controlling rpms and an integrated rocker pedal for traveling the machine forward and in reverse up to 2 mph. The Speed Swing 445F provides 180-degree boom rotation and has a spacious, climate-controlled operator cab.
SnowEx's heavy-duty straight-blade snowplow gives skid steers commercial-contractor performance. It is available in four blade widths. The plow is built with a formed base channel for extra durability. Six vertical ribs, two angled Power Ribs and a quad design provide added torsional strength to prevent blade twisting. The A-frame is constructed of tubular steel to handle the toughest jobs.
The Prodigy snowplow from Western features wings that automatically move with no additional wiring or controls. It has a universal skid-steer mounting plate. Once the pins are engaged, the plow is ready. The plow uses the onboard hydraulics system of the skid steer to lift and lower the blade. An oscillating mount that provides 6 degrees of total side-to-side oscillation is optional to improve scrape and cutting-edge wear while reducing damage to the terrain.
Winter Equipment's Razor Arrow Straight Blade System is designed to give Western Pro Plus plows longer blade life and improve cutting. It features two, 4-1/2-foot Razor blade sections, two Plow Guard Juniors and grade 8 hardware. The two Plow Guard Juniors prevent uneven and premature wear on the plow's wear bar. The Razor Arrow system includes a two-piece, pre-welded blade with 5/8-inch abrasion-resistant cover plates. The cover plates are welded to a tungsten carbide insert cutting edge for increased wear life and surface footprint. Built-in wear indicators help to track wear life.