As the colder months loom, demand rises for snow blowers and plows. We've also thrown in attachments for cleaning jobsites any time of year. Some of these 12 tools can even tackle both conditions.
Clear snow from parking lots, building sites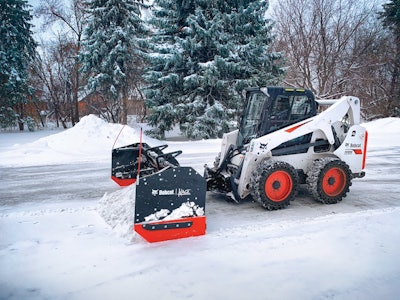 The Bobcat Snow Pusher Pro commercial snow remover attachment is both an angle snow blade and a snow pusher. Three different sizes are compatible with most Bobcat compact track loaders and skid steers. The attachment is available in widths of 96, 108 and 120 inches. The snow pusher is geared for clearing parking lots, driveways and building sites. It can push snow from paving stones, decorative concrete and sloped sidewalks. Features include abrasion-resistant skid shoes and free-floating blade movement of lift, tilt and oscillation.
Salt spreader also serves as storage unit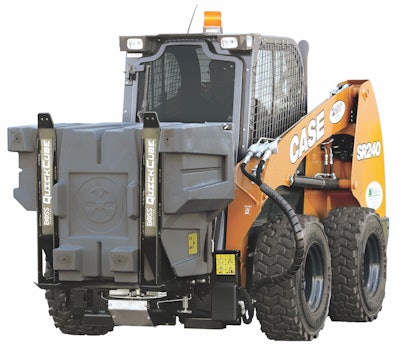 The Boss QuickCube is an all-in-one salt spreader for skid steers and compact track loaders. It also serves as storage unit that can be kept at the jobsite to eliminate unsightly and costly shelters, tarps and exposed salt piles. The company says you can also move the cubes in place ahead of a storm to reduce truck travel in snowy, icy weather. Each cube holds about 1,000 pounds of salt and can be loaded easily with a skid steer bucket. The cubes are weather-resistant and have a stackable design.
Blade tilts 30 degrees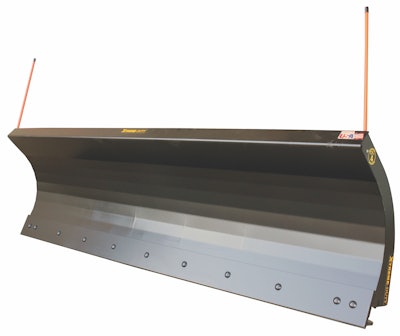 Construction Attachments' four-way snow blade for skid steers and compact track loaders delivers 30-degree tilt left and right. The blade comes in a mechanical or hydraulic model. The mechanical model can be converted to hydraulic by installing hose assembly and crossover relief and by adding hydraulic cylinders. The cutting edge is reversible and available in rubber or steel. A two-spring trip moldboard is standard; additional springs can be added. The blade also comes with high-visibility snow guides and skid shoes that are adjustable to preset heights. Blade widths range from 5 to 7 feet.
Snow pusher for wheel loader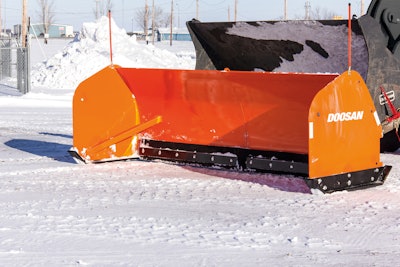 Doosan snow pusher attachments are designed for clearing large amounts of snow from parking lots, driveways and roadways. They mount directly to a Doosan wheel loader's general-purpose or light-material bucket. They feature a 47-inch moldboard and a 1.5-inch rubber cutting edge. Models are available in widths of 12 and 14 feet. Steel skid shoes, 12-inch push beam and three bucket mount support tubes keep the snow pusher rigid even during high-capacity jobs.
Sweep snow and debris
The Edge Angle Broom can be used year-round, for removing snow or debris on sidewalks, parking lots and other surfaces. Widths are available from 48 to 96 inches. The manual angle model can shift 30 degrees in either direction. A hydraulic angle kit is optional. Bristles are made of a 50/50 combination of poly and wire. A fold-away stand is provided to protect the bristles while in storage. The attachment comes with a hose saver kit, hoses and flat face couplers. A dust-control kit is optional. The tool is compatible with skid steers, track loaders and articulated loaders.
Throw snow up to 45 feet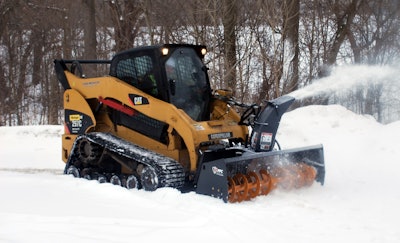 FFC Snow Blowers can throw snow up to 45 feet with ease, says Skid Steer Solutions, which offers the attachment for skid steers and compact track loaders. The tool is designed for clearing parking lots, roads and driveways. It is available in a variety of widths and hydraulic flow rates. Custom electrical controls can fit any brand, model or age, the company says. A compact utility loader (mini-skid steer) version is also available. The poly-lined chute and deflector are hydraulically operated. Other features include reinforced wrapper and adjustable skid shoes.
Scrape through hard-packed snow and ice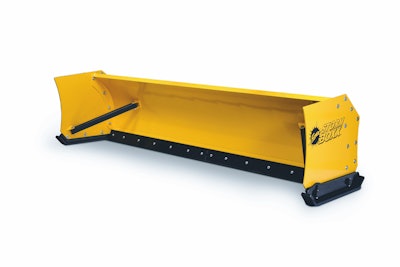 The new Fisher Storm Boxx pusher plows feature a two-piece steel trip-edge design that delivers a cleaner scrape for hard-packed snow and ice while protecting operators and their equipment when encountering hidden obstacles. They come in widths of 12, 14 and 16 feet. They can be attached quickly to backhoes, wheel loaders and tractors with a bolt-on, interchangeable attachment plate. The moldboard is made of 10-gauge steel. It measures 40.5 inches tall and has a 67-degree angle of attack. The blade's high-gloss paint resists corrosion.
All hydraulic snow blower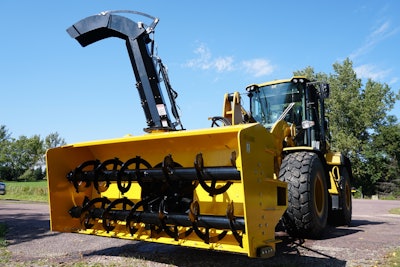 HitchDoc's all hydraulic Snow Blower runs strictly on a wheel loader's hydraulics with no external diesel engine, gearboxes or shear pins. All functions can be operated from the cab. A digital display shows machine flow capacity and rate of travel. An abrupt stop triggers an oil bypass that protects the blower. Three models range in widths of 84.5 to 108 inches and hydraulic flow requirements of 25 to 50 gallons per minute. Standard features include 45-degree hydraulic rotating fan housing for right or left side discharge and 270-degree hydraulic rotary spout.
Brooms with dust suppression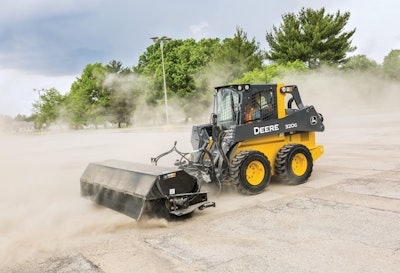 John Deere's pickup brooms are designed for cleanup in turf, snow and construction applications. They are compatible with Deere skid steers and compact track loaders and most competitor models. They feature a 26-inch-diameter brush, with 50/50 poly-wire segments as standard, and optional all polypropylene brush segments. BR models use bolts to adjust brush contact and have a .625-inch double-bevel cutting edge. The BP models offer tool-free adjustment and have a half-inch single-bevel cutting edge. Water tank kits are available for dust suppression.
Sweep dirt, aggregate into the bucket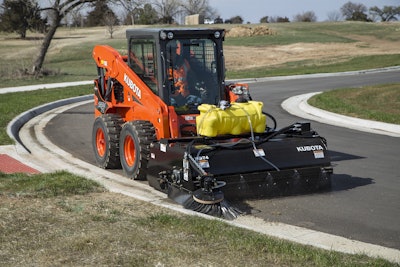 Kubota HB30 Series Hopper Brooms come in 74-inch and 84-inch models for skid steers and compact track loaders with hydraulic flows of 12 to 25 gallons per minute. They have a 26-inch bristle diameter and choice of poly, wire or a combination of the two materials for sweeping dirt, aggregate or other light materials into the bucket. The broom hoods can be adjusted downward as the bristles wear to extend the life of the broom. The cutting edge is reversible and replaceable. A rubber dust deflector flap helps keep dust levels under control, and a dust-suppression kit is optional.
Plows for popular half-ton pickups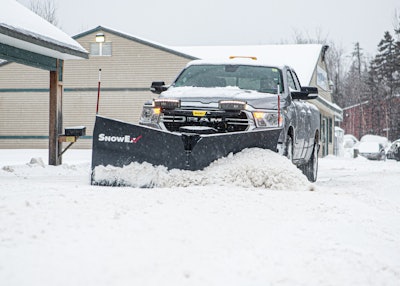 The SnowEx RDV and Western Enforcer V-plows are designed for half-ton trucks but keep many of the same features found on the brands' heavy-duty plows. Constructed of high-strength, low-alloy steel, the plows are stronger and lighter than conventional steel and adapt to various vehicle heights for such truck models as the GMC Sierra 1500, Chevrolet Silverado 1500, Ford F-150, Ram 1500, Nissan Titan and Toyota Tundra. Available with either powder-coated or stainless-steel blades, the plows are 7 feet 6 inches wide as a straight blade or 6 feet 9 inches wide in V mode.
Multiple blade positions set from the cab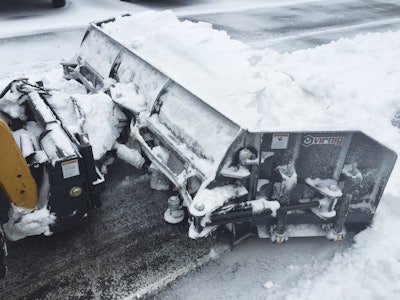 While inside the cab, operators can quickly transform Virnig Manufacturing's V60 Hydraulic Snow Blade/Pusher from a straight blade to a snow pusher or any position in between, the company says. The attachment can perform a variety of snow functions: windrow, push, scoop, pile and back-drag. The attachment uses the hydraulics of the skid steer or compact track loader to angle the blade 30 degrees in either direction. Each wing can be controlled electronically 0 to 60 degrees, and the entire blade can be adjusted independently of the wings for a multitude of plowing positions.