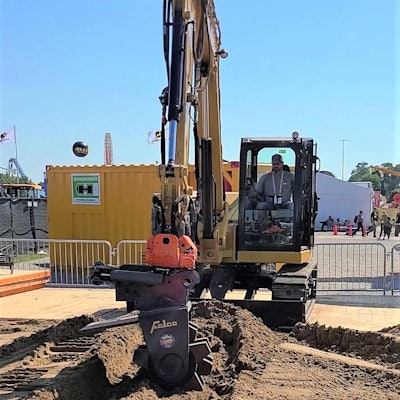 Brandon Johnson
From electric equipment to versatile attachments, there was no shortage of new and improved products at the 2021 Utility Expo. With more than 900 exhibitors and 32 acres of exhibit space, it can be easy to miss that game-changing innovation you never knew you needed. So, we hustled the show floor at the Kentucky Exposition Center and met with contractors to see what products caught their eye.
Here are some contractors' top products from the 2021 Utility Expo.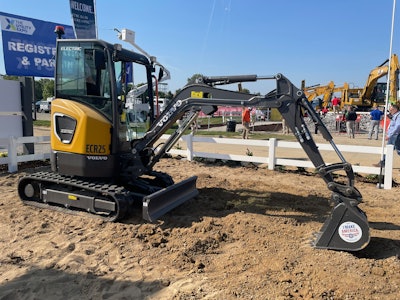 Product: Volvo ECR25 Electric excavator
Recommended by: Brandon Adams, Full Tilt Grading
Why: "The electric excavator was crazy fast. It had all the power you needed and never bogged down like a diesel would. You could track, dig and swing the boom at the same time, which for what we do is a must and hard to find in smaller equipment. The cost and battery life are going to be a downfall, but it has its place. I would definitely buy one if it had an 8-hour runtime."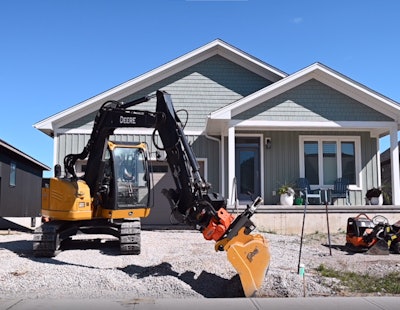 Product: AMI Axxis Tiltrotator
Recommended by: Brad Campbell, Top Notch Excavating LLC
Why: "I went to the show to get a hands-on look at tiltrotators. While the engcon, Steelwrist and AMI Attachments tiltrotators were all great, I preferred the AMI Axxis. The Axxis doesn't have any exposed tilt cylinders; therefore, it has a narrower profile. You could excavate a narrower trench, plus the cylinders aren't sticking out to get damaged."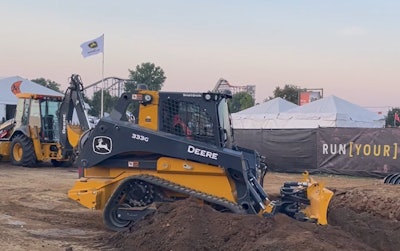 Product: John Deere 33G CTL with Dozer Blade and 3D Grade Control
Recommended by: Zack Ford, Countryside Landworks LLC
Why: "What I liked about the CTL with the dozer blade was how easy it was to run. There wasn't much of a learning curve. It was simple to change your grade on the fly with the push of a button. I could see using this where a smaller dozer wouldn't fit. With the ability to take off the blade and run other attachments, it allows for versatility and fewer machines sitting around that you need to find work for."
Product: Icom Communications System
Recommended by: Ryan Goodfellow, Rock Structures Utility & Excavating
Why: "We're looking for something that we can use as a company to communicate as a group or individually. The Icom Communications System is a radio that uses the AT&T cellular network. I'm hoping that this will help us get on the same page for our daily needs."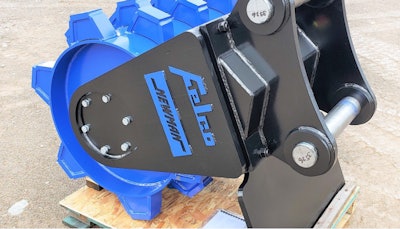 Product: Felco Industries Compaction Wheel
Recommended by: Brandon Johnson, Elite Earthworks
Why: "One of my favorite excavator attachments was the Felco compaction wheel. For a one-man show, this is a great investment. Not only can you do a better job at compacting material either in a ditch or backfill around a basement, but you can also get it done quickly or without the need for another person or machine."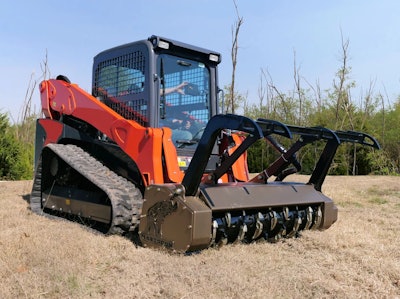 Product: Mastadon M60 Forestry Mulcher
Recommended by: Davin Jones, Advanced Terrain Solutions
Why: "Mastadon is using some super cool technology in their tooth design and in the wireless technology for the mulcher. They have a mulcher model that can give the operator real-time data on oil temperature, pressure and gpm flow to let the operator know how the head and machine are performing. Plus, it's a direct drive system so there is no belt to tune or periodically replace."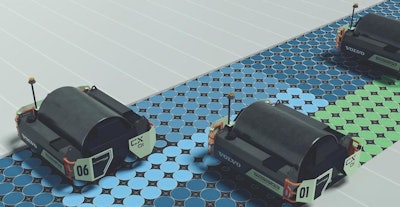 Product: Volvo CX01 autonomous single-drum asphalt compactor concept
Recommended by: Corey Lockheart, WML Enterprises LLC
Why: "I went to The Utility Expo specifically to check out the technical advancements in the industry. The Volvo roller absolutely stood out. Automation and robots are becoming more and more common, and I can't wait to integrate them into my business, especially in areas that are dangerous for humans."