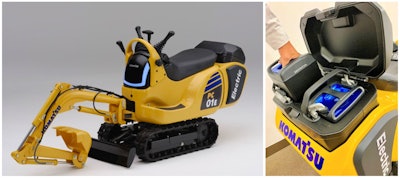 Komatsu
No word yet on whether these will make it to North America, but Komatsu and Honda say they are jointly working on a micro electric excavator.
The electric PC01, shown here in prototype, is powered by a Honda Mobile Power Pack, or MPP, which now powers Honda's scooters and Business Bike series. The 3.5-horsepower, 661-pound base PC01 model itself has been has been offered by Komatsu in Asia and Oceania for several years.
One of the base unit's distinctive features – at least to North American eyes – is that the operator straddles the machine much like a snowmobile or a personal watercraft. It has no cab or canopy.
Komatsu says it intends to launch the electric PC01 by the end of its fiscal 2021, which would be March 31, 2022. It envisions the machine being able to work close to people and trees and plants while doing work such as installing utilities, putting in landscaping and doing agricultural tasks. With no exhaust, it can also work indoors.
The Honda MPP can be quickly swapped out without the need to recharge the battery, simplifying the power supply. Komatsu and Honda say they will conduct verification tests after the machine is launched to improve the convenience of electric construction equipment by supplying MPPs to construction sites and offering services such as a battery swapping system.
The two companies says they will also design more electric micro and mini excavators up to the 1-ton class and jointly study MPP-based electrification for several other types of construction machines. The two also mention "overseas business launches."
In addition, Honda and Komatsu say they will work on developing "a broad network of MPP-based battery-sharing systems" for the construction industry.
Komatsu now offers three models of micro excavators – PC01, PC05 and PC09 – but does not sell them in North America.