Komatsu is in active development of more sustainable solutions to reduce customers' carbon footprint.
In addition to expanding its longstanding focus on hybrid options, the company is exploring the concept of electrification.
At ConExpo-Con/Agg 2023, Komatsu showcased a variety of electrified machines that are on the verge of coming to market.
The showcase piece was the 20-ton PC210E. With a 451-kWh battery capacity, the excavator is good for up to eight hours of operation.
Watch for an upcoming story on the PC210E at Equipment World.
Other electric products included the PC30E mini excavator, the PC01E micro excavator, and a fully electric prototype of the company's WA70 wheel loader.
"As we step into this space, we're looking at multiple solutions and multiple products," said Andrew Earing, director of product and technical services at Komatsu. "We're very excited and happy to learn alongside our customers."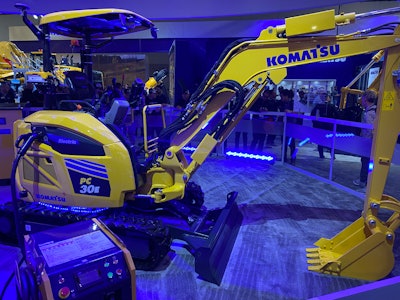 It's electric
For quiet and simpler operation without vibrations and zero emissions, the PC30E electric mini excavator fits the bill.
The prototype of the PC30E was originally unveiled at Bauma 2019. Komatsu conducted repeated tests at customers' workplaces before launching it on the rental market in Japan in 2020.
Based on Komatsu's PC30MR5, a version available in Japan is the PC30E-5. Komatsu offered a minimal explanation for the differentiation between the machines.
However, at ConExpo, the unit on display and discussed by those at the booth was labeled as a PC30E, with no additional number attached to it.
"That's going to be a 36-kWh electric battery-powered utility excavator capable of running in upwards of four hours, maybe even a little bit more depending on the application with a charge time of two hours," Earing said.
As an electric mini excavator, he said the machine is suitable for a diverse range of workplaces including carbon neutral operation indoors, urban construction, and landscaping.
"If you're doing utility work right up by homes, you've got a lot of ability there because of the zero-emission and significantly less noise," he said. "It's a very quiet machine and very comfortable to operate."
Powered by an electric motor, the PC30E doesn't generate noise like a traditional diesel model. Even while in use, it remains easy for operators to communicate with other crew members near the machine.
The lack of noise also promotes the use of the machine at jobsites where noise needs to be taken into consideration such as residential areas, near hospitals, or at night.
Earing noted that the PC30E performs at the same levels as its diesel-powered counterpart.
"There are no sacrifices in performance," he said.
The PC30E has the same hydraulic system as its counterpart, driven by an 18.2 kW electric motor instead of a diesel engine.
Rather than fuel, there are a couple of charging options for the PC30E. The standard charging option is overnight while the machine is not in use. However, to improve work efficiency, there is a rapid charging option that will bring the machine up to 80% capacity in a short time.
Maintenance is simplified as well. Without an engine, there are no longer air filters, engine oil, or refueling, which significantly reduces daily inspection and maintenance work.
Generally, operators who are familiar with that size excavator can operate the electric model.
"What's important as we step into this space is that functionality is not sacrificed," Earing said. "Any work attachments that would traditionally be used on a PC30 conventional excavator you can use here as well."
In the second half of 2023, Komatsu is looking to take the PC30E into a pilot program.
"What we mean by that is it's just working closely with our customers to run it, to experience it, to live with it, and better learn about the ideal applications, the total cost of ownership, things like that," Earing said. "We're very excited to do a program like that."
No dates have been identified as to when the PC30E will be entering the pilot program testing.
"I will say that in other regions of the world, including Europe, they are going to market this year," Earing said. "We're going to continue to work with our customers, learn about the application, learn about the benefits, and we'll decide at a later date."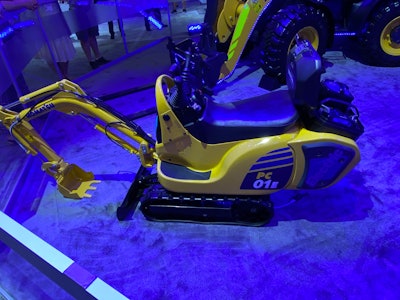 Micro machines
For the past several years, Komatsu and Honda have been collaborating on the development of a micro electric excavator powered by a Honda Mobile Power Pack or MPP and Honda eGX electrified power unit.
Using the base model of its 3.5-horsepower, 661-pound internal combustion engine counterpart, the PC01, the two companies have created the PC01E-1 which has a 2.5kW electric motor and weighs in at 750 lbs.
For the North American market, one of the micro excavator's distinctive features is that the operator straddles the machine much like a snowmobile or a personal watercraft. It has no cab or canopy.
The PC01E-1 was launched in the Japanese rental market in March 2022.
Komatsu recently announced that it is working with Honda on developing different electric models, with the first being the PC05E-1.
To date, there has not been an indication of when the micro excavators will be coming to the North American market. However, a PC01E-1 was displayed during ConExpo 2023.
According to Komatsu, both the PC01E-1 and the PC05E-1 are envisioned to be able to work close to people, trees, and plants while doing work such as installing utilities, putting in landscaping, and doing agricultural tasks. With no exhaust, each can also be utilized indoors.
The use of an electric motor that can exert power in the full RPM range enables excavation even when working at low RPMs.
As with most battery-powered machines, charging is frequently the challenge. For the PC01E-1 and PC05E-1, the batteries are swappable, so operators can continue working simply by exchanging the batteries and not waiting for a battery to recharge.
Komatsu's vision for the swappable battery system is to scale up the technology for use in larger micro excavator models.
Also, with the battery being in the center of the vehicle under the operator's seat, it offers both stability and compactness equivalent to the engine-powered counterpart.
No fuel, no hydraulics
Komatsu also displayed and demonstrated a fully electric compact wheel loader at Bauma 2022 and ConExpo 2023.
"We just really wanted to showcase what technologies are out there and present them at the show," Earing said.
With a chassis based on the Komatsu WA70 wheel loader, he said the WA Electric wheel loader concept machine was developed in partnership with Moog Inc.
Utilizing Moog's intelligent electrification system this wheel loader features an electric traction motor, lift, tilt and steering cylinders, power electronics, system control computer, battery, and battery management system.
"With those electric cylinders, there is no hydraulic fluid on that machine," Earing said.
The seamless integration of the multiple subsystems including power management, motion control, connectivity, and automation, enables manufacturers using the Moog system to develop their differentiated offerings and bring their vision for next-generation machines to life while decreasing development costs and the time to bring products to market.
For Komatsu, the anticipation is that testing will demonstrate the advantages of fully electric machines and prove the collaboration to be beneficial for both sides.
Preliminary analysis suggests that electrification of the machine has extended the operating cycle and with various assist functions provided a more comfortable environment for the operator to manage the machine throughout the day.
"At this stage, I would call it a prototype," Earing said. "There are no plans on bringing that to market yet."
The requirements of every jobsite are unique, and Komatsu wants to provide a variety of different solutions to meet those needs.
Earing noted that Komatsu is pursuing a variety of charging infrastructure options as it moves toward the electrification of a portion of its fleet.
Working with Proterra, Komatsu is offering a portable concept designed for "off-grid" locations or where site power is inaccessible or unreliable.
Earing said the mobile charging option has a 20-kW charger that can charge the PC30E in two hours.
In addition to the mini electric excavators, the charging unit can be used to charge other electric equipment at a jobsite.
Also, Proterra has assisted in the development of an off-grid power bank that will charge the PC210E up to five times.
The Komatsu Generation 2 charger is well-suited to adapt to varying site conditions, stepping voltage up or down to meet charging needs. With an input range from 400-1140V and an output of 300-900V, it features a universal CCS (AC/DC) charge plug and is also transportable.
Quick Specs
PC30E
Engine: 18.2 kW electric motor
Bucket capacity: 3.179 cubic feet
Operating Weight: 7,870 lbs.
External noise level 90 dB(A)
Zero emissions
Available for sale in late 2023.
PC01E-1
Engine: 2.5 KW electric motor
Operating weight: 750 lbs.
Bucket capacity: 0.010 cubic yards