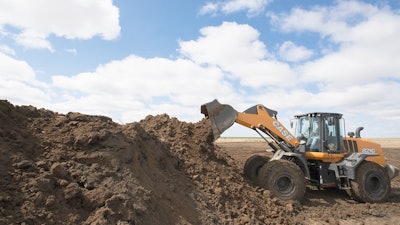 Case Construction Equipment
While Case Construction Equipment decided not to move on from the G Series designation for its wheel loaders, don't be fooled by the "update" language when it talks about the series's upgrades. There's plenty to unpack here.
Case has added factory-installed payload and tire monitoring systems, upgraded controls and added a new touchscreen display. It's also redefined power modes, added new electro-hydraulic parallel lift and upgraded its telematic features.
Dial in your preferences
Using the new touchscreen display, operators can access machine settings and operational data. They also can adjust electrohydraulic controls, which allow them to independently set lift (boom) and tilt (bucket) responsiveness to smooth, moderate or aggressive.
"These settings allow the operator to really dial in those independent movements to their preference and to what makes sense for the job," says Andrew Dargatz, Case product manager.
The smooth setting allows for precise control for activities such as loading pallets of brick or block. Moderate is the factory setting, and aggressive is designed for high-demand applications. Working in the aggressive setting, operators will be able to use fine bucket metering to top off any load.
Case went from four power modes in the previous model iteration down to two: Max and Smart. As the name implies, Max is for full-throttle work.
The new Smart mode, using improved communication between the engine and transmission, helps achieve smoother shifting for reduced tire wear and up to 10% fuel savings when compared to the Max setting, Case says.
But know that Smart is not a new label for the former Eco mode, Dargatz says. "It delivers a set-it-and-forget-it type of mode. Smart mode manages the communication, transmission and the operator to both give you the power when digging into a pile for faster cycle times and better bucket fill and to also manage that power so you're not spinning your tires and generating excessive tire wear."
The updated G Series also has new electro-hydraulic parallel lift capability across all boom configurations. This automatically maintains the angle and the position of the attachment to minimize the risk of the material shifting while loading or transporting. Activating the unit's ride control while using parallel lift also assists in material retention.
Your buttons, your choice
Three new color-coded configurable buttons are located on the right armrest next to the loader control.
"These allow an operator to quickly engage pre-programed machine settings or functions," Dargatz says. The buttons, which are configured via the touchscreen, can also be operated from the display.
Which button engages which settings is determined by the operator. This can include the new payload and tire pressure management systems (more on those in a bit), lift and tilt control, rearview camera, differential lock or declutch.
"The colors are designed for a quick visual," Dargatz says.
Case-specific payload system
A new factory-installed integrated payload system is now an option on the G Series. "This is not an aftermarket solution tacked on," Dargatz says. "It's built specifically for these machines."
And, he adds, this system is not just for production-oriented applications such as quarries. "We've seen the demand for this technology span across several segments, including general construction, landscape yards and municipalities," Dargatz says.
System readings are integrated into the touchscreen, providing bucket weights, pass counts, accumulated/running weight and job tracking data.
"This allows operators to precisely load each truck to reduce under/overload situations by actively weighing each bucket and cumulatively tracking the total weight loaded into a truck," Dargatz says. When a target weight is achieved, users get visual and audio alarms.
Working with Case's SiteWatch telematics platform, the payload system also tracks total loads and total material volumes over a period of time and can track history by customer, truck or material moved plus provide ticket histories for up to 18 months. The system is capable of tracking up to 500 customers, 1,000 trucks, 50 different material types and 200 tickets.
"The onboard payload system drives efficiencies and loading cycles and reduces situations where operators have to top off trucks as they sit on the scale," Dargatz says.
Contractors can also use it to evaluate operator performance and cycle times, providing data that informs future decisions on machine and bucket sizing.
This payload system is only available on the updated G Series machines and can be installed after purchase.
Avoid under/over inflation
Another option for the updated G Series is the Tire Pressure Monitoring System, which uses individual sensors mounted to the valve stem of each tire. Using a receiver module that communicates the pressure for each tire onto the in-cab display, the system alerts the operator when the tire pressure is outside of a set range.
The valve stem sensors communicate via radio signal with a module in the cab. While packing of dirt and debris does decrease the strength of the radio signal, Case says the system has been designed to meet the challenges of loader applications.
Tire pressures are set at the factory at standard tire manufacturer recommendations. "Under-inflated tires put unnecessary stress and weight on the axles and other components, leading to wear and tear over time," says Richie Snyder, marketing manager, construction equipment digital and precision solutions, Case.
If operators need to run a different tire pressure than the factory settings, they can adjust the alert threshold level.
Two-way telematics
Case has also enhanced its SiteWatch telematics platform, giving it the ability to update software and clear codes remotely through the new SiteConnect Module and SiteManager app.
"The SiteConnect module improves the volume flow and integration of data to the Case SiteWatch telematics platform and makes remote diagnostics code clearing and software updates possible," Snyder says.
Using the SiteManager app, you can also pair your mobile device to the machine for remote analysis by dealer technicians.
"You now have two-way communication capabilities," Snyder says. "It's not just the telematics data coming off the machine, but you now have the ability to pair your phone to the machine and allow the dealer to remotely access it." You can also share the information with the Case Uptime Center in Racine, Wisconsin.
"We believe strongly in the idea of collaborative fleet management," Dargatz says, "and the ability to share more data more effectively will enhance the ability of each dealer and our team at the Uptime Center to proactively identify issues with a machine that may require attention and to schedule the appropriate follow-up action at a convenient time before it becomes a larger issue."
The seven G Series models, first introduced in 2016, range from the 142-horsepower 521G to the 345-horsepower 1121G. They are made in Fargo, North Dakota.