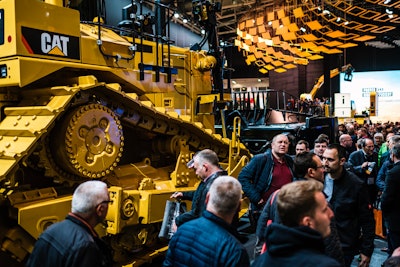 Equipment World
Munich will be recovering from its annual Oktoberfest when the world's largest construction equipment trade show comes calling.
Citing the long planning times needed to produce Bauma, show producer Messe Munchen says the show will now take place Oct. 24-30, 2022. "This provides exhibitors and visitors a secure planning basis for preparing for the upcoming Bauma," says the group.
The show had been scheduled for its long-established spot in early April. The Apr. 4-10, 2022, date, however, was changed because "in numerous discussions with customers, there was a growing recognition that the April date involved too many uncertainties in view of the global pandemic," Messe Munchen says.
Of particular concern: whether worldwide travel – "crucial for success of the trade show," says the group – would be relatively back to pre-pandemic levels again by next April. This was a particular concern of global exhibitors that expect customers to attend Bauma from all over the world and make "correspondingly high investments in their exhibits, logistics and hotel capacity," Messe Munchen says.
"The decision to postpone Bauma was not an easy one for us, of course," says Klaus Dittrich, Messe Munchen chairman and CEO. "But we had to make it now, before the exhibitors start planning their participation in the trade show and make corresponding investments. Unfortunately, despite the vaccination campaign that has been launched around the world, it is not yet possible to predict when the pandemic will be largely under control and unlimited worldwide travel will be possible again."
"Even without a health crisis, companies need to overcome challenges such as digitalization, autonomous construction sites and sustainability, and stay abreast of changes to avoid falling behind," says Joachim Schmid, managing director of the Construction Equipment and Plant Engineering Association in the German Engineering Federation. "For this, they need Bauma as an innovation barometer and networking platform."
Organizers say Bauma 2022 will have both a face-to-face and a digital component. The show will focus on several topics, including the road to zero emissions, the digital construction site, construction methods and materials of tomorrow, the road to autonomous machines and sustainable mining.
Volvo Construction Equipment and JLG have already announced they will not attend Bauma, citing changing customer behaviors.
The 2019 show had more than 620,000 visitors from more than 200 countries, the highest attendance in its 67-year history. It had 3,700 exhibitors from 63 countries, which was an additional record.