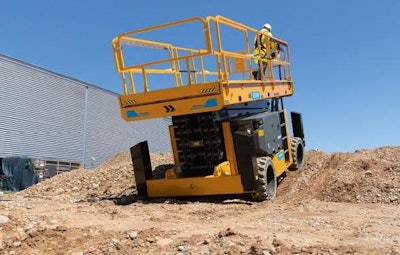 Haulotte's new Pulseo all-terrain scissor lifts deliver all-electric performance equal to diesel-powered scissors, the company says.
The new HS4390 E and HS5390 E scissors for North America have platforms that can carry up to four people and a total of 1,650 pounds. They can be extended out to 19 feet long; width is 6 feet 2 inches.
Platform height is 42 feet 8 inches for the HS4390 E, and 52 feet 6 inches for the HS5390 E. The scissors can be driven at height on uneven terrain.
The company says the battery-powered lifts emit no pollutants and operate at under a 60-decibel noise level.
The scissors are powered by a 48-volt battery pack that can handle a full day's work on one charge. The batteries can be charged at the end of a shift on any standard 110- to 230-volt single-phase electrical network. Haulotte offers an optional accelerated charger in which the batteries can be charged up to 80% in three hours. It also offers an optional removable and interchangeable range extender for rapid recharge while the lift is operating.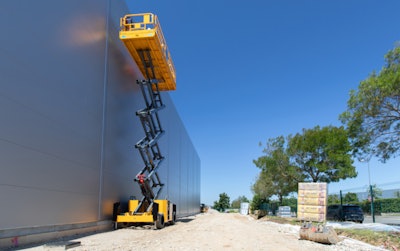 The Pulseo scissors can climb slopes of 40% to 45%, depending on the model, and can operate on slopes up to 5% with outriggers deployed. An oscillating axle enables traction for the front wheels on uneven ground. The scissors also deliver four-wheel drive, and a manual differential wheel lock adds traction when needed. They also have 13-inch ground clearance and a drive speed of 3.1 mph. Operation is guided by proportional, ergonomic controls.
For safety, Haulotte added its Activ'Shield Bar, which automatically stops the machine to prevent the operator from becoming entrapped when nearing an obstacle. Haulotte's Activ'Lighting System provides 10 LED spotlights to illuminate the platform, controls and work area for working at night.
The Haulotte Activ'Energy Management System keeps track of battery charge and preventive maintenance notifications. Haulotte also provides centralized watering solutions to reduce maintenance. The Easy Maintenance Pack enables technicians to fill all of the batteries with water at once, and the Auto Maintenance Pack automates water-filling.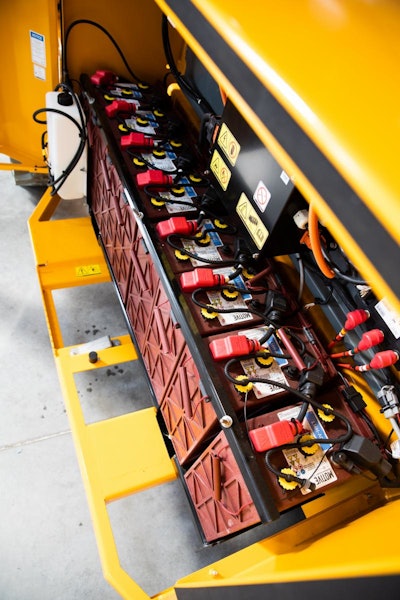 The scissors also feature Haulotte's Activ'Screen, which gives technicians diagnostic and machine information. This information is also available on mobile devices through the Haulotte Diag app.
Standard features include folding handrails and double-swing gate entry. Non-marking tires are an available option for working indoors.
Below is a video of the new scissors in action: (Note: The HS15 E and HS18 E in the video are international models, with the model names denoting meters; while the HS4390 E and HS5390 E scissors are for the North American market.)