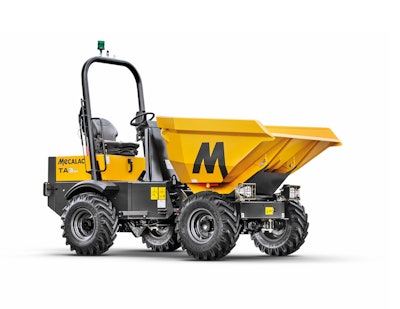 Mecalac, which says it is the largest manufacturer of site dumpers in the world, is rolling out its new line of the machines with five model categories ranging in tipping loads from 1 to 10 tons.
Aimed at the rental market, Patrick Brehmer, Mecalac head of design and product management, says site dumpers represent "a revolution of logistics on the jobsite." That's because they are less expensive than trucks and take less space and time to turn around, he says.
Mecalac's new site dumpers include the TA1EH, TA2 range, TA3/TA3.5 range, the 6MDX and the 9MDX. Model numbers represent operating weight in metric tons.
The TA2 and TA3/TA3.5 ranges offer skip options of straight tip, 180-degree power swivel tip, and elevating swivel tip.
Committed to North America
Though a well-known name elsewhere in the world, Mecalac didn't get its first U.S. dealer until 2016, when Lorusso Heavy Equipment of Walpole, Massachusetts, approached the company about distributing its products.
Since then, Mecalac has added 15 dealerships in the United States, with more in the works, said Peter Bigwood, general manager of Mecalac North America. Bigwood joined the company in September after serving in leadership roles with construction-robot manufacturer Brokk and Atlas Copco.
He said the company is focusing on adding dealers, building its brand in North America and expanding its presence in the rental market. He added that the company has more than $10 million worth of inventory at its Boston facility and recently started Mecalac Financial Solutions for customer financing.
It also has no plans to leave.
"When people encounter European companies coming over here, the first thing they say is, 'How long are you going to stay?'" Bigwood said. "Mecalac is all about long-term stability and long-term commitments, so we are here to stay. We have built up an organization already, and we are growing."