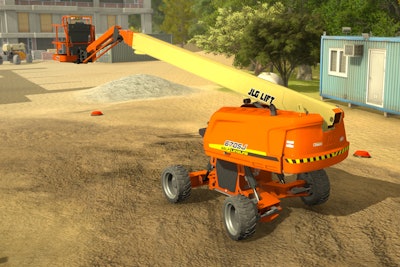 Introduced as a concept at the 2017 ConExpo, JLG's new self-leveling boom lift is ready for production, with sales in North America to begin in the Fall, the company said at the lift's unveiling at ConExpo 2020.
The 670SJ telescoping aerial work platform automatically keeps the chassis, and therefore the work platform, level when traveling surfaces that have as much as a 10-degree grade, up from the industry standard's 5 degrees.
That allows the operator to drive at height over uneven ground, the company say. It also reduces platform movement, preventing tools and materials from falling off the platform. JLG plans to eventually add the technology to other models.
The 670SJ has a 67-foot platform height and can reach full height in 101 seconds and back down in the same amount of time, the company says.
The lift also meets upcoming ANSI standards scheduled to take effect June 1. The A92.20 standards by the American National Standards Institute govern the manufacture and all other aspects of aerial lifts, which are called mobile elevating work platforms, or MEWPs, under the standards.
A new height class
The lift's "smart suspension," which allows for the self-leveling, also enables an extra foot of platform height. Along with the self-leveling technology, JLG says it has opened a new size class for booms, with the industry's first boom at 67 feet.
To further improve travel, JLG added a new standard mode that enables the operator to drive faster with the boom down. A new "shipping mode" lowers the suspension for transport.
The platform has a capacity of 550 pounds unrestricted and 750 pounds restricted. Horizontal reach is 57 feet 1 inch.
Saving time
JLG lists the following other benefits to the new 670SJ:
Reduces or eliminates the manual labor and time required to set up cribbing and/or grade the work area.
Reduces the need for earthmoving equipment where minor grading and leveling was previously required.
Reduces or eliminates redundant positioning to locate a level work area.
Allows the boom lift to get closer to the work area for better reach and reduces the need for larger, higher reaching lifts as backup.
To watch a video demonstration of the 670SJ, see below: