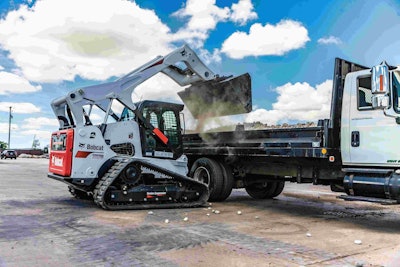 When Scott Park took the reins of Doosan Bobcat in 2013, the company was still in the process of recovering from the 2008 economic downturn. As a result, he says much of his focus was on building a financial structure within the company that would be more resilient in the face of a sluggish economy or sudden drops in demand.
With much of that work done and the company now enjoying wild growth in both the compact equipment and rental markets, Park says he began looking toward the future and how the company might not only maintain revenues, but grow. Transform, even.
He says that though the company has been a leader in the compact equipment space for more than 60 years, Park doesn't just want Bobcat to lead, he wants it to shape the future of the market. That means doing things and being present in places Park says the company hasn't before.
"The world is changing around us. Because our market position as a global leader in compact equipment can't be taken for granted, we needed to do something to ensure that we have growth and sustainability moving forward," Park says. "We needed to change and we needed to redefine what is the compact equipment industry."
"…Because the competitive landsape is continuously changing," Park continued, "and it's not just coming from our traditional competitors, it's also coming from other competitors that you would never think of."
What Park is referring to there are disruptive forces from outside the construction equipment industry. In a later presentation, Doosan Bobcat's Vice President of global innovation, Joel Honeyman, said that all of the advances and new products from Google, Amazon, Apple, Uber, Netflix, Airbnb, etc., aren't just felt by technology companies. They're felt across industries, including construction and heavy equipment.
He says that Doosan Bobcat's customers use Google, Amazon and Netflix on a daily basis. Now, they "expect similar technology from Bobcat," Honeyman adds. Because of Uber and Airbnb, contractors began wondering how to make some extra money on idle equipment through the sharing economy. Because of Amazon, customers expect to be able to shop online, order something today and get it tomorrow, Honeyman says.
Beyond the impacts of the changing mentality of its customer base, Honeyman says that disruptive startups that may have established themselves in one industry, are now eyeing making their money in construction equipment. For instance, Honeyman says the same companies that have been trying to develop technology for autonomous cars are now coming to do the same on construction equipment. "Autonomous cars are a ways off," he says. "And I will tell you right now that autonomous construction equipment will happen before autonomous cars."
Meanwhile, a national shortage of qualified candidates for equipment operator and diesel technician jobs is hampering the construction industry's ability to meet high demand for both road construction and general construction projects. And that's giving the OEMs and the disruptors a lot of incentive to come up with a breakthrough product.
"In the next five years, you're going to see incredible advances in our industry," Honeyman says. In the next two to three years, Honeyman predicts you'll see more remote control offerings, more advanced iterations of semi-autonomous machine operation and the introduction of augmented reality technology for equipment. Within five years he says you'll start seeing virtual reality machine control, electric and fuel cell machines, and new equipment with no operator stations that are fully autonomous.
So what does that mean for Doosan Bobcat?
"Going forward you're going to see a lot more products, a lot more attachments and a lot more technology coming from Bobcat, but it's going to come quick. The drum beat is actually going to be faster," Park says. "We're changing our culture and we're stepping boldly into new categories and we're going to innovate and we're going to change the way work is done. And you'll be surprised. You'll be surprised at how quickly that drum beat is going to hit."
Part of that change in culture Park mentioned is a willingness not only to try new things, but to fail at them. "We're going to launch things, we're going to pull things back, but we're going to change the way we think and we're going to change the way customers think…
"We're reinventing ourselves," Park says.
Part of this reinvention will be making a push into equipment categories Bobcat hasn't yet pursued, Park says. But it will also mean creating new machine categories altogether.
"There's a very defined square that says 'This is compact equipment,'"Park says. "And we're saying, 'Well, who defined that?' We're the ones that created this market 61 years ago. So, why don't we redefine what that compact equipment market is? Not based on what everyone else says it is, but what we think it is."
Park says this new approach will require the company to lean heavily into bouncing ideas, prototypes and more off of its customers to gauge their reaction and gain insight into what the product should look like in its final form.
Honeyman says the company plans to do "scale-up" launches on future products. "We might go to a couple of markets with a product initially, or just a couple of customers for a couple of months, because we want to learn along the way," Honeyman says, with the goal of finding the best solution to ultimately ship to all of its customers.
Park says that the company's redefined stance toward new products and the necessity of beating disruptors to the punch, require it to reshape its approach to innovation. "We're pursing partnerships in Silicon Valley; we're taking ownership positions; we're connecting machines; we're utilizing Big Data; we're servicing our customers in different ways," Park says.
"Our innovation will help meet the needs of increasingly sophisticated customers, but we're also going to lead those customers into sophistication. It's a two-way street because sometimes the customers don't know exactly what's out there, but once you show it to them, they get excited."
Park says that the company also plans to continue expanding its manufacturing footprint while being open to more acquisitions be it in software, machines or attachments.
"Change is inevitable and change is something that we need to be able to digest and lead," Park says. "We need to get comfortable with change and I feel like over the last few years we have built a culture of change."