So now the countdown is on for ConExpo-Con/Agg 2020, an event that editors view with excitement (all that shiny new iron) mixed with dread (6 a.m.-to-midnight jam-packed schedules).
Adding to the experience of the March 10-14th show: even more steps on your smart watch. In addition to 2,800 exhibitors, 2.6 million square feet of exhibit space and 150 educational sessions, add … two campuses.
(You can see what equipment OEMs have in store for ConExpo 2020 in our show preview page by clicking here.)
Enter the 1.5 million-square-foot Festival Grounds, located on the Las Vegas strip adjacent to Circus Circus, about a mile from the Las Vegas Convention Center.
The LVCC is expanding once again, and the former Gold Lot is now being transformed into a 600,000-square-foot exhibit hall. Unfortunately, that means it won't be ready for next year's show.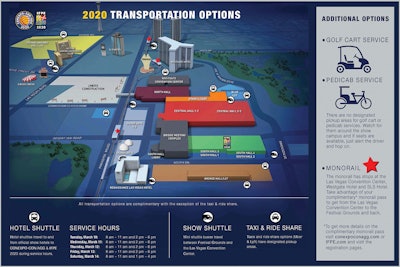 This is relocating a lot of big players that formerly exhibited in the Gold Lot, including Caterpillar, Volvo, Liebherr, JLG Industries, Terex and Manitowoc Cranes. They will now be located in the Festival Grounds.
It will be a logistical challenge, requiring a constant phalanx of rotating mini-shuttles from the main show to the satellite Festival Grounds. (In addition, the free monorail pass included in the show badge can take attendees to the SLS hotel, from which they can enter the grounds.)
While acknowledging there are logistics to be dealt with, show organizer Association of Equipment Manufacturers likes to refer to the two areas as a "connected campus." "We'll include more buses to get you to and from the show and additional options to get you around the show," says Dana Wuesthoff, AEM vice president of exhibitions and event services and ConExpo-Con/Agg show director. "We've been very strategic about where we put our transportation; it's really quite robust. We're making sure that someone doesn't have to walk halfway across the show to get a direct shuttle to the other area."
All of this means it will be a bad idea to think you can aimlessly wander the show without a blueprint. Right now, the best way to start is to go to the show's website, conexpoconagg.com. Later, you can download the show's app and start mapping out your routes in earnest.
"Regardless of what you're interested in, you need a plan," Wuesthoff says. "Otherwise, you may be overwhelmed."