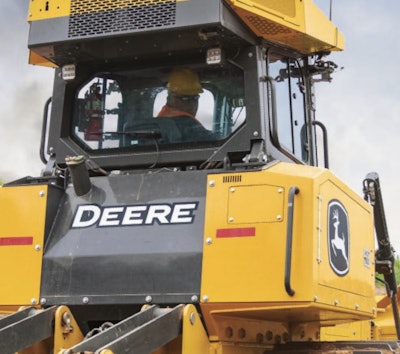 John C. May will be the next chief executive officer at Deere & Company following a board vote, the company has announced.
Allen, a 44-year veteran of the company, will step down from the CEO role November 4, but will continue as the company's board chairman. Allen has served as CEO of the company for 10 years.
As part of the board's decision to elevate May, who currently serves as both the company's president and its chief operating officer, it also elected him as a member of the board effective immediately.
May, 50, will the 10th Deere CEO in the company's 182-year history.
"John's record of success and proven leadership skills make him highly qualified to lead Deere and guide its success in the years ahead," says Allen. "His experience in precision agriculture, information technology, and overseas operations will be instrumental in driving the company's digitalization journey and extending its success in agricultural and construction equipment."
May joined Deere in 1997 and joined the company's senior leadership team in 2012 when he was named both the president of the company's agricultural solutions division and its chief information officer.
May has also helmed the company's agriculture and turf division and the company's operations in China.
Before Allen served as CEO, he took turns as Deere & Company president and as president of the company's construction and forestry division. He has helmed the company's power systems division as well, and also led operations in Latin America, China and East Asia, and Australia for the company's agricultural division.
Allen has been a member of the Deere board since 2001 and also serves as a member of the board of directors for Dow chemical.