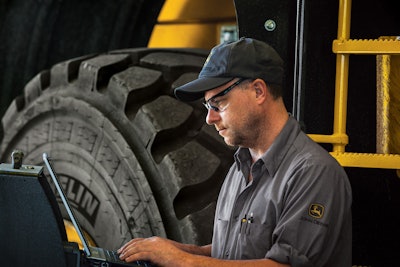 If you'd like to apprentice as a diesel technician, or an equipment salesperson, a John Deere dealer near you may soon be able to help.
The company has announced that is has received approval for its new Registered Apprenticeship Program and is making it available to its Agriculture & Turf, Construction & Forestry dealers.
Apprentices who participate in this earn-while-you-learn program will get structured on-the-job training and technical instruction with an experienced mentor at participating John Deere Dealerships. While in the program, apprentices will track and report their OJT learning and technical training time in conjunction with their employer.
Upon completion of the program the apprentice will receive a nationally recognized journey worker certificate.
While the program has a strong focus on equipment technician programs, dealers can also select other occupations for apprentice training including sales professionals, parts professionals, accountants and other occupations.
Tim Worthington, manager for customer support, says the program will help dealers more easily recruit new employees and develop a skilled workforce.
"This can improve a dealer's productivity and profit potential as employee turnover costs are reduced and employees are retained longer," says Worthington. "In addition, John Deere customers benefit from access to more highly skilled dealer personnel who are servicing or supporting their equipment."
Deere created national guideline standards for the Registered Apprenticeship Program, which have been shared with its dealer channel and is providing technical assistance to dealers interested in participating. "These guidelines provide a consistent apprenticeship program template that any dealer can implement if they participate," says Grant Suhre, director, region 4 customer and product support for John Deere Ag & Turf. Dealers can use these national guideline standards to have a program approved and operating in a very short timeframe, he says.
John Deere dealers can collaborate with a number of local organizations as part of the Registered Apprenticeship Program. These organizations include, but are not limited to, the John Deere TECH Program, K-12 schools, community colleges, labor organizations, economic development groups, foundations and workforce development boards. Dealers can also receive support and technical assistance from John Deere and JFF (Jobs For the Future, a US Department of Labor intermediary), who will expedite the registration process with their state or federal apprenticeship agency.