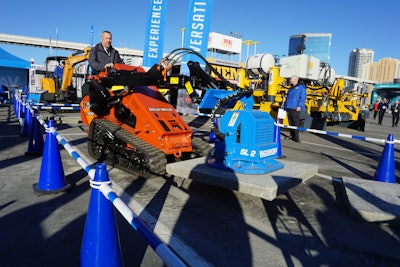 At the World of Concrete show last week, Vacuworx kicked off the celebration of its 20th year in business by releasing the next generation of its SL 2 subcompact vacuum lifting system.
Attaching to skid steers, compact excavators, compact track loaders and compact utility loaders, the SL 2 now features modular pad options. The standard 24-inch-by-24-inch pad is now joined by a 12-inch-by-36-inch pad for handling more narrow trench cuts. Custom pad sizes are also available upon request. The attachment also can be controlled by wireless remote control.
The SL 2 also has a redesigned hydraulic system, which allows attaching the unit on older machines that do not have case drains, allowing it to be used on machines that may already be in a contractor's fleet.
"This can replace areas of concrete with a saw cut and lift it out," says Bill Solomon, Vacuworx CEO and president. "It's much more safe than other methods and can be done in a third of the time."
First introduced in 2016, the previous model featured an integrated pad designed for common concrete and demolition jobs. The SL 2 redesign came out of requests for more versatility. In part the unit came out of partnership with Ditch Witch; the attachment fits on Ditch Witch's compact utility loaders.
Moving into the compact machine market has helped the company double its manufacturing capabilities in the past five years, Solomon says.
The SL 2 has a lifting capacity up to 2,700 pounds and uses quick-connect hydraulic hoses and a factory pre-set flow control valve. Depending on the host machine, two mounting assembly options are available: a mini/walk-behind subcompact equipment version or a standard skid-steer version. The SL 2 is also compatible with compact excavators, backhoes and cranes with a clevis hook connection.
The SL 2 uses a host machine's auxiliary hydraulics (minimum 10 gpm with a maximum of 3,000 psi). The vacuum pump maintains a constant vacuum in the pressure reservoir. When activated, the unit provides a powerful positive seal via the Vacuworx Tough Seal pad seal, which holds until the operator releases the seal.