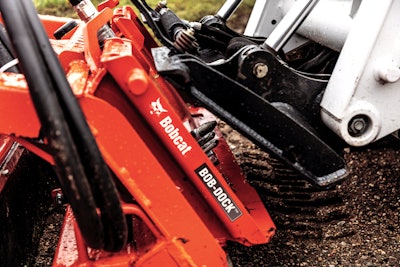 Bobcat's Bob-Dock hydraulic attachment mounting system is designed to offer operators an easy repeatable way to connect hydraulic compact loader attachments without leaving their seat. It was unveiled during last week's World of Concrete show.
"Bob-Dock is the next evolution of the attachment exchange system," says Jason Boerger, Bobcat marketing manager, a pathway that has evolved from the Bob-Tach and Power Bob-Tach systems.
"While these have been great, users still need to get out of the cab to hook up hoses on hydraulic attachments," Boerger continues. "The Bob-Dock lets you connect these attachments without getting out of the cab. This offers real time savings and convenience."
To use the Bob-Dock, an operator lines up the loader with the attachment's Bob-Dock adapter plate. Pressing the Power Bob-Tach switch inside the cab, the operators uses the Bob-Tach system to secure the attachment while the Bob-Dock automatically connects the hydraulics. The attachment is then ready to use.
To switch to another attachment, the operator retracts the Bob-Tach wedges and pulls away. The hydraulics instantly release.
One concern of beta testers was the relocation of the hydraulic connection from the loader arm to lower on the Bob-Dock, Boerger says.. "It's much closer to the ground on the Bob-Dock, where of course much of the action is, and there was concern about hydraulic contamination, particularly from our agricultural users. We had to prove our durability and to make sure there was alignment every single time."
One thing particularly noticed by contractors was how the Bob-Dock keeps hydraulic hoses tucked in and less exposed, helping prevent cuts and abrasions, Boerger says. "It's not necessarily the cost of replacing these hoses that bugs them, but the downtime. The customers I visited said this system drastically reduced this issue."
And operators do not have to disconnect the Bob-Dock attachment mounting system if they want to use an attachment that does not have a Bob-Dock adapter plate. The standard couplers located on the lift arms remain ready to use, allowing the connection of any Bobcat attachment.
The Bob-Dock will be available on Bobcat's M2-Series T639, T650, T750 and T770 compact track loaders; S630, S650, S 740 and S770 skid steer loaders and the A770 all-wheel-steer loader.