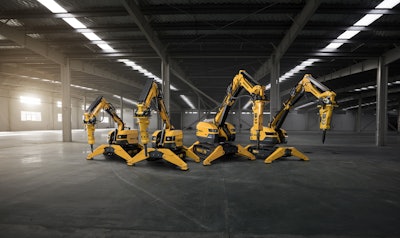 Brokk continues to develop remote-control demolition robots that deliver more power in a smaller package.
It has launched four new models – the electric 170, 200, 300 and diesel 520D – that feature the company's three-part SmartConcept system, designed to improve performance and uptime. Smart Concept consists of the following:
SmartPower – senses poor or faulty power supply and adjusts to prevent damage to components. It also adjusts to operating and environmental conditions to deliver maximum power.
SmartDesign – makes the robots more durable and easier to maintain with 70 percent fewer cables; hardened components; LED headlights; and grease points and hydraulic hoses that are easy to access.
SmartRemote – offers a 984-foot operating range, has ergonomic controls and adjustable straps.
Brokk introduced the next-generation models in April at Intermat in Paris and plans their North American debut at World of Concrete 2019, which will be January 22-25 in Las Vegas.
Brokk 170
The new Brokk 170 offers 15 percent more power over its predecessor, the Brokk 160, with the same compact size. The 170 delivers 299 foot-pounds per blow with its 453-pound Brokk BHB 205 hydraulic breaker. Along with breakers, it can handle such attachments as buckets, clamshell buckets, concrete crushers, grapples and metal shears. Its three-part arm extends 16 feet vertically and 14 feet horizontally. The machine also offers continuous 360-degree rotation.
Brokk 200
The new 2-ton Brokk 200 can carry attachments one weight class above its size, of 4,630 pounds. It comes with a new Brokk BHB 305 breaker that hits 40 percent harder than the breaker on the 170. Its vertical and horizontal reach is 15 percent longer while retaining the compact size of the Brokk 160. The company says it is ideal for heavy-duty jobs in tight spaces.
Brokk 300
The Brokk 300 replaces the 280, with a BHB 455 breaker delivering 40 percent more hitting power. With SmartPower, output is increased to 37 kilowatts allowing it to handle heavier attachments. It has the same width and height of the 280 but weighs 1,100 pounds more. Its new arm system gives it a vertical reach of 21 feet and horizontal reach of 20 feet.
Brokk 520D
The hydraulic breaker on the Brokk 520D diesel-powered demolition robot comes with 40 percent more hitting power and almost 10 more inches of working reach than the 400D it replaces. It is powered by a Tier 4 Final Kohler engine. It can handle the same heavy attachments as the Brokk 500 released last year.