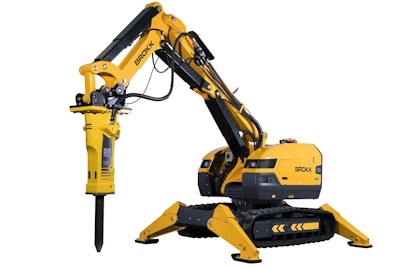 Brokk's remote-controlled demolition robot, available in May, comes in at about the same size as its predecessor, the Brokk 400, while delivering 40 percent more breaking power.
The company credits the Brokk 500's SmartPower electrical system with adding more punch and length to the hydraulic arm when compared to the Brokk 400. The system adjusts to environmental and operating factors to deliver maximum power, Brokk says.
The robot, which was unveiled at ConExpo 2017, delivers 1,086 pounds with each blow of its 1,510-pound Atlas Copco SB 702 hydraulic breaker. Its three-part arm system extends 24.3 feet vertically and 23 feet horizontally.
Despite adding arm power and length, the Brokk 500 weighs only 224 pounds more than the Brokk 400—for a total of 11,464 pounds—and is the same width. It also can handle the same tools and attachments used by the Brokk 400. The SmartPower system is designed to endure the punishment of tough demolition jobs, while helping the operator start the machine on a poor power supply and protect it from faulty power.
You can do all routine maintenance without having to lift machine covers, and it's easier to replace damaged hydraulic hoses, Brokk says. The company also says it added a strengthened machine design, reinforced casting details and new headlight protections.