With intelligent controls land interchangeable attachments, the 127-horsepower Vermeer RTX1250i2 ride-on trencher is designed to maximize productivity on utility jobs.
Succeeding the Vermeer RTX1250, the new machine offers several technological advances, including:
Productivity Zone, an intelligent machine feature that identifies the ideal operating range and ground speed for the rear attachment, maximizing productivity.
Switch activated, the machine's Auto Plunge technology monitors engine rpm and reduces the rate of plunge automatically in the rear attachment, whether a trencher or a rock wheel. This assures that the rpm does not drop too far.
A TrenchSense electronic control system helps prevent engine stall when working in challenging ground conditions. As it monitors engine rpm during trenching operations, it will automatically pause the tractor's forward creep if the engine rpm drops or the trencher chain stops.
The EcoIdle system automatically lowers the engine speed to idle if the tractor has not been active for 30 seconds.
"Every drop of fuel that you put into this machine is going to be used in the most efficient manner," says Brandon Wagner, Vermeer application specialist.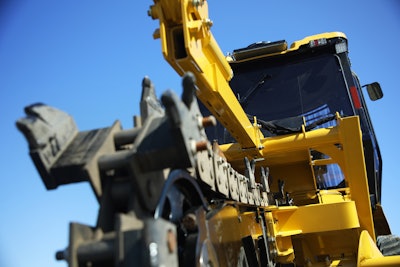 The machine can be customized with a variety of attachments, including trenchers, plows, backfill blades and reel carriers. Attachments can be switched out in around a minute; when paired with the tractor, attachments communicate with the machine to adjust machine controls to operate that specific attachment. The RTX1250i2 is available on either tires or quad tracks.
Optional Vermeer Fleet machine diagnostics help the operator monitor engine operating hours, idle hours, fuel usage, fault codes and location in addition to offering geofencing capabilities. "The dealer can also see what's happening with the machine," Wagner says. "If it requires a repair, the dealer knows the right parts and the right technology to do the job," he says.
The isolated platform helps reduce cab vibration. An optional self-leveling auto tilt helps operators maintain a vertical trench by adjusting the rear tractor axle.