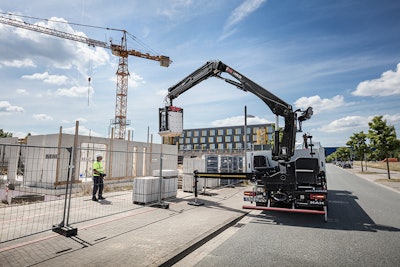 Hiab has expanded its loader crane lineup with three new models focused on building material loading jobs this week at the IAA show in Hannover, Germany. The new cranes range in capacity from 13 metric tons (14.3 tons) to 20 metric tons (22 tons).
Featuring the Hiab HiPro remote control system and high-speed extensions for fast operation and long reach, the company says the new machines will allow operators to get more done each day and more safely.
The new models include the L-HiPro 145, L-HiPro 195 and L-HiPro 235.
"At Hiab, safety always comes first and that is why these cranes feature Hiab's innovative Crane Tip Control (CTC), which lets even novice operators perform complicated movements to deliver the load from point A to point B, simply and safely," says Hiab's Hans Ohlsson director of medium range cranes. "The Load Stability System automatically compensates for unintentionally excessive lever operation, protecting the operator, the surrounding environment and the crane."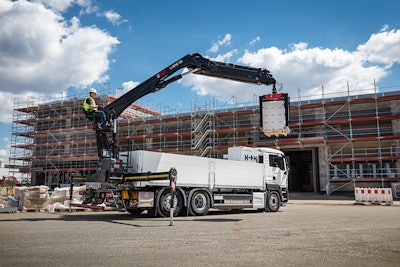 Of the HiPro remote control system Ohlsson says it "offers the highest speed and precision," and is "designed to provide ultra-quick and ultra-smooth response and is able to support a high number of simultaneous movements."
Hiab says key parts and components are easily accessible to ensure easy regular maintenance.