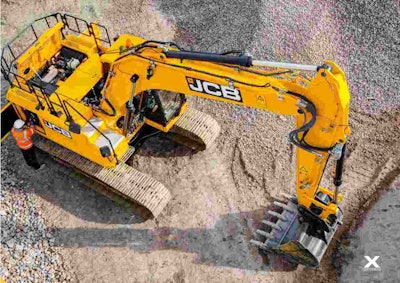 Genie's new S-80 HF, S-85 HF telescopic boom lifts are gentle on soft terrain
Lifting heavy loads with aerial work platforms that have all-terrain tires can cause damage to soft ground like sand and turf.
To address that problem, Genie has introduced two new high-float telescopic boom lifts, the S-80 HF and S-85 HF, that are deigned to "float" on soft, delicate surfaces, the company says.
Despite the added protection for soft ground, the new HF models boast an unrestricted lifting capacity of 600 pounds and restricted capacity of 1,000 pounds. Their platforms, with side swing gates, can hold up to three people, along with tools and materials. Platform options are 6 feet with dual-entry or an 8-foot tri-entry platform.
To read more, click here.
---
JCB intros 19C-1, zero tailswing 18Z-1 compact excavators with rental-ready common design
JCB has introduced two new compact excavators the company says share a common design focused on increased durability for the rental market.
The new 18Z-1 has an operating weight of 3,856 pounds and is JCB's first zero tailswing model in the 1-2 ton excavator size class. The 19C-1 is a 4,211-pound conventional tailswing machine.
JCB North America president of product and direct sales, Steve Fox, says that both new machines are more durable and require less maintenance than competing 1-2 ton compact excavators. They feature all-steel bodies, protection for hydraulic rams and hoses, 500-hour greasing intervals and a swing-out counterweight for full access to the engine bay. There's also a separate service access door for daily checks.
To read more, click here.
---
Night Vision: Intelligent Compaction giving paving contractors better results in the dark
When Ron Larson started nine years ago as a construction project manager for the Oregon Department of Transportation, intelligent compaction was an unknown concept.
Then in 2016, his agency began some IC pilot projects. As with other states, Oregon discovered that intelligent compaction improves paving. The ODOT now requires IC on all its major highway paving projects.
"We've come a long way quickly," says Larson.
More than 300 projects using intelligent compaction have been completed in the United States since 2000, says Pavana Vennapusa, the lead engineer at Ingios Geotechnics, which outfits vibratory rollers with IC technology.
All major manufacturers of paving and milling machines make some version of the technology, which consists of an integrated measurement system, an onboard computer reporting system, Global Positioning System (GPS) mapping, and optional feedback control. The technology has not only improved results during the day but makes night paving much easier.
To read more, click here.
---
VIDEO: The tale of 'Moby Dig,' or 'What happens when your elevated excavator sinks into the ocean floor'
Construction can be an unforgiving business. Even when the proper planning and specialized equipment are involved, sometimes the job still throws up a big middle finger right in your face. Take for instance the tale of "Moby Dig".
In 2017, during construction of the Rampion Wind Farm off the coast of Sussex, England, a Cat 374DL elevated excavator was brought in to wade about 1/3 of a mile off-shore to backfill trenches dug for the installation of the wind farm's energy export cable, according to the Rampion Offshore Wind newsletter.
To read more and see the videos, click here.
---
JCB unveils the 220X, says new X-Series takes excavators to "totally new level"
Though the company is known more for its backhoes and telehandlers here in the U.S., JCB's latest machine introduction could go a long way in changing that.
In a development process that the company says took "four years … and thousands of hours of extreme endurance testing," JCB's chief innovation and growth officer Tim Burnhope says the new X-Series excavators move the company "to a totally new level of product development and machine assembly."
"The result," according to JCB chairman Lord Tony Bamford, is "a machine to be taken seriously," that uses "automotive quality materials and proven components," in a "rugged and refined" package.
To read more, click here.