Bobcat has introduced new grading and trenching buckets the company says offer greater durability and easier clean-out when using a compact excavator for cleaning ditches, backfilling, leveling or grading.
All of the new buckets are designed for use on Bobcat's E26 through E85 excavators and can be quickly interchanged with the company's X-Change attachment mounting system.
The redesigned trenching buckets are available in 12-, 16-, 18, 20-, 24-, 30- and 36-inch widths. The buckets feature a replaceable cutting edge and a scalloped cast side cutter. A toothed version of the trenching buckets is also available and uses the same teeth as the previous bucket model, meaning customers and dealers don't have to stock two types of teeth, Bobcat says.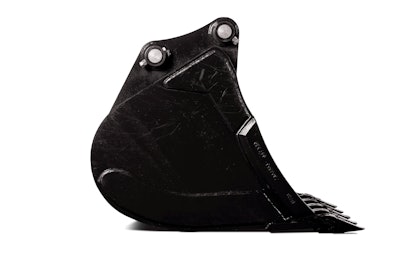 The new grading buckets are available in 36-, 48- and 60-inch widths and share the same profile as the trenching buckets. The grading buckets do not have internal center gussets, a design that allows for the buckets to have a larger capacity than the company's current grading buckets and thus allows for more material to be moved in one cycle. The buckets are also equipped with waffle plates for extra strength and rigidity on the bottom of the bucket.
All of these new buckets are compatible with the standard clamp and the optional Pro Clamp System which allow operators to move and grab more materials. Pro Clamp can serve as a smooth cutting edge when grading or trenching with a toothed bucket and can be reversed as a clamshell when paired with a smooth lip bucket.