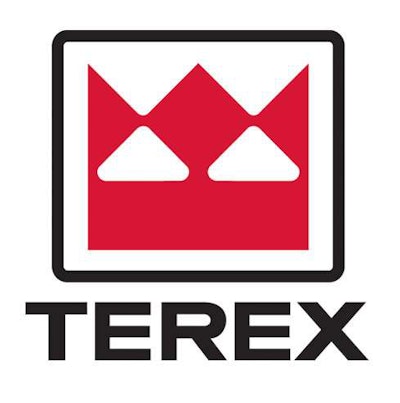 Despite a fourth quarter loss, things appear to be looking up for Terex as the company finished 2017 with a positive net income.
In its Q4/FY2017 earnings, the company reports income from continuing operations of $60 million for the full year on sales of $4.4 billion. The 2017 results are quite the turnaround from 2016 where the company posted a loss of $193 million on the same sales figure.
For Q4, Terex posted a loss of $31.7 million on sales of $1.1 billion.
The company notes that both the quarterly and full year results include a one-time $50.4 million charge associated with the new U.S. tax law. Adjusted income for Q4 was $28.3 million, while full-year adjusted income was $128.4 million.
"The fourth quarter marked an excellent finish to an important year for Terex," John L. Garrison, Terex President and CEO, says in a statement. "We increased operating margins, bookings and backlog in every segment and significantly improved earnings per share."
Over the last two years, Terex has sold off all of its earthmoving products to various manufacturers and now serves only the three segments: Aerial Work Platforms, Cranes and Materials Processing.
The company's aerial work platforms division increased sales by 18.5 percent during the fourth quarter to $449.4 million. Full-year AWP sales increased 5 percent to $2.071 billion. Cranes division sales were basically flat at $324.4 million for the quarter, but fell 6 percent on the year to $1.194 billion. Materials processing division sales rose 20 percent for the quarter to $283 million and were up 13.5 percent for the year to $1.072 billion.
After years of acquisitions and divestitures, Terex says it has set the stage for robust growth by narrowing its focus.
"The sales of MHPS and the remaining Construction businesses concluded the Focus element of our strategy and created substantial value for our shareholders," Garrison added. "We continued to simplify the company by executing our footprint rationalization plan, exiting 12 manufacturing locations totaling 2.6 million square feet. We reduced administrative expenses while increasing investment in innovation, strategic sourcing, and commercial excellence. We fundamentally improved our capital structure by executing our disciplined capital allocation strategy, reducing debt by $583 million, refinancing at the lowest interest rates in the Company's history, and returning capital to shareholders by repurchasing $924 million of Terex stock."
Garrison says he expects big things from 2018.
"By implementing our strategy, strengthening the Company, and increasing backlog by 56%, we are well positioned for what we expect to be an improving global market environment in 2018. We expect to increase revenue and improve operating margins in every business segment," he says. "We will continue to implement the Simplify and Execute to Win elements of our strategy, and follow our disciplined capital allocation strategy. We expect to deliver 2018 earnings per share of between $2.35 and $2.65, excluding restructuring, transformation investments, and other unusual items, on net sales approximately 10% higher than 2017."