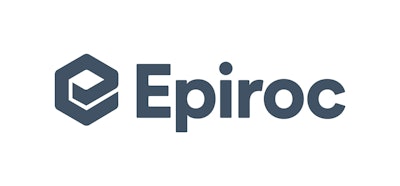 After initiating U.S. operations on Dec. 1, 2017, Atlas Copco subsidiary Epiroc made its North American debut at the World of Concrete trade show in Las Vegas on Tuesday.
Epiroc, which develops and produces drill rigs, rock excavation and construction equipment, is based in Sweden and was spun off from Atlas Copco as part of the company's recent restructuring.
At World of Concrete, Epiroc is showcasing its range hydraulic attachments including Hydraulic Breakers, Combi Cutters, Concrete Busters, Pulverizers, Multi Grapples, Compactors, Bucket Crushers, Hydro Magnets, Steel Cutters, and Drum Cutters.
Epiroc is focused on customers in mining, infrastructure and natural resources and has 370 employees providing sales and service from 17 locations to customers in more than 150 countries.
"Epiroc was formed to better serve our customers," says Epiroc Vice President for Hydraulic Attachment Tools in the U.S. and Canada, Matt Cadnum. "Becoming Epiroc allows us to build on the proven quality and expertise of Atlas Copco while narrowing our focus. For the Hydraulic Attachment Tools division, that means providing our customers with more support and more equipment that enhances productivity, energy efficiency, safety and ergonomics."
As part of establishing its U.S. presence, Epiroc has opened at Hydraulic Attachment Competency Center in Independence, Ohio. According to Atlas Copco, the new facility combines a customer center, repair shop and configuration center, and parts and supplies warehouse with a dedicated team focused solely on hydraulic attachments. Parts and supplies were relocated from the Atlas Copco Distribution Center in Charlotte, North Carolina.