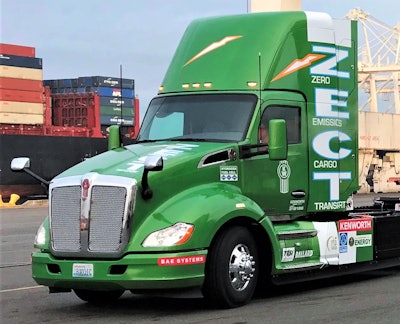 Earlier this month, Kenworth made headlines by exhibiting for the first time at the Consumer Electronics Show in Las Vegas and bringing along its zero-emission, hydrogen fuel cell T680.
The high tech day cab, which was part of the PACCAR Innovations booth, gave thousands of visitors a chance to not only see the latest in hydrogen fuel cell tech, but also to learn more about Kenworth's trial runs in the Seattle area and its plans for real-world testing with Total Transportation Services at the ports of Los Angeles and Long Beach.
The Kenworth T680 day cab's fuel cell combines compressed hydrogen gas and air to produce electricity with only water vapor emitted at the tailpipe. This electricity can power the dual-rotor electric motor to move the truck up to its top speed of 65 mph, or it can recharge the 100 kHw lithium-ion battery pack for later use.
The hybrid drive system manages the power from the fuel cell to and from the batteries, as well as the traction motors and other components, such as the electrified power steering and brake air compressor.
Hydrogen fuel cell technology continues to attract the attention of those interested in alt fuels primarily for four reasons: it offers zero emissions, lower fuel costs, hydrogen is a renewable fuel and, unlike all-electric vehicles, it only take minutes–not hours–to refuel a fuel cell.
Those concerned with the effects of methane on the ozone layer (methane, according to the California Air Resources Board, presents a much greater threat than carbon dioxide), can breathe easy knowing that methane at dairy farms and landfills can be rendered into renewable natural gas, which in turn, can be processed into hydrogen. Yes, cow poop can fuel a Kenworth.
Kenworth reports that the fuel cell T680 has been performing very well in trial tests. It has a current range of 150 miles and can carry the legal gross combination weight of a Class 8 vehicle.
"Our testing shows that this truck performs equally as well, if not better than, current diesel trucks on the market," said Stephan Olsen, Kenworth director of product planning.
We caught up with Olsen recently to learn more. Our Q+A is below.
---
How much weight is in batteries?
Olsen: Batteries themselves are 2,000 pounds, but with battery management, high voltage cable, coolant lines, enclosure, mounting, etc., we're up to about 2,800 pounds.
Can the 150-mile range be increased? If so, how?
Olsen: It is very simple to increase the range: merely use a larger set of hydrogen tanks. Similar to diesel trucks, we expect that we'll need to provide several sizes of tank capacity to match customers' route profiles.
What's maintenance been like thus far compared to a conventional T680?
Olsen: Maintenance needs on this type of vehicle will be quite small: replace an air filter element annually, drain & refill coolant every other year, change oil in transmission in 5 years, that kind of thing.
When can interested parties test drive, lease and/or buy the truck?
Olsen: This is just a proof of concept vehicle at this time. The development cycle for this technology will take 3 to 4 years to complete.
We'll keep up with Kenworth's fuel cell T680 following its transition to the ports of Los Angeles and Long Beach where it will be put to work as a drayage truck.